I don't know about you, but for me summer is synonymous with live, outdoor music.  Lucky for me(and you), a concert series in Headwaters Park will showcase some of Fort Wayne's best talent. Online publication Living Fort Wayne is sponsoring a three-part concert series in one of Fort Wayne's most scenic outdoor venues. Although the first of the three concerts has passed, there is still time to get in on the fun in July and August.  Going forward a total of four acts will grace the stage, the first being the acoustic act and the latter being the featured band.
July 2: The July show opens with Left Lane Cruiser. This two-man rock duo is comprised of Joe Evans on slide guitar and vocals with Brenn Beck on drums and harmonica.  Their personal take on the North Mississippi Hill Country sound will get you movin'. If you can't make this show, you can likely catch them at local dive bar The Brass Rail. After you get your fix of blues rock, take in the reggae/ska sound of Unlikely Alibi. According to their website, "Unlikely Alibi brings to mind the best work of The Clash, Madness and Elvis Costello, with a traditional, yet modern twist. " I've seen them perform before, and they do put on a good show. Their stage presence is impressive.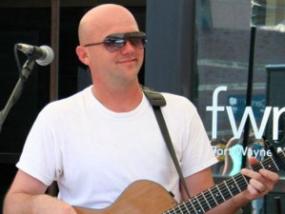 August 6: Singer-songwriter Adam Strack kicks off the August show with his trademark brand of acoustic covers-- anything from Jack Johnson to James Taylor. Shifting gears a bit is Bluebird Revival. According to their Facebook page, "Blue Bird Revival is a high energy gospel band featuring new versions of traditional hymns, as well as our own music that is a down-home combination of country, bluegrass, ragtime and gospel." After you fed your hunger for music, take advantage of beer from J.K. O'Donnell's, as well as food truck fare. The concert is open to all ages, but those who wish to drink must be 21 or older.