I won't lie, I'm not exactly what you would call a "history buff," but when I heard about the new exhibit at the
Fort Wayne Museum of Art
,
WWII Aircraft Nose Art
I was actually excited to go.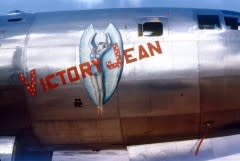 What I found out when I went was that painting "nose art" on airplanes began during WWI, and by WWII every "nose" had been painted. On September 1, 1945 (the day before the peace treaty was signed), Sgt. Bob Dutcher and Sgt. Eugene M. Gillum took it upon themselves to head to the flight lines with one roll of film. Two weeks after the photos were taken, the paintings were ordered removed. Thankfully, their vision enables us to enjoy these amazing treasures. The exhibit runs through May 6, and the Museum of Art is open Sunday from noon – 5 pm, Tuesday – Saturday, 11 am – 6pm and Thursday 11am - 8 pm. Admission is $5 for adults, $3 for students (K-college), and $10 for families, free admission to all military personnel and their families any day of the week. If you are taking the kids, be sure to devote at least 30-60 minutes to the kids area, they will love it! After the Museum of Art, walk across the street to enjoy lunch or dinner riverside at
The Gas House Deck
.