The voices of Aretha Franklin, Janis Joplin and Bette Midler are magnificent on their own. Put them together on one stage and you have a group of female vocal artists like none other. What is this trio of tribute artists called? Divapalooza! Their musical range runs the gamut from rhythm and blues, to jazz, musical theatre, rock & roll, folk and gospel. Divapalooza will perform on Saturday, June 23, at 8:00 p.m. at Foellinger Theatre.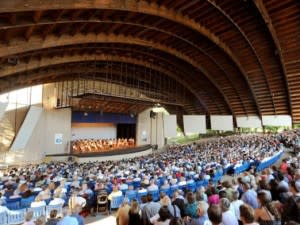 And just so you know – if you've not been to Foellinger Theatre in a while, you might want to check it out. You may not recognize the place. It has undergone major upgrades in recent years. In 2011 a new roof, electronic sign, enclosed artists' dining area and lights were added. In 2009 and 2010 new dressing rooms, house lights, stage lights and light control board were added.

Foellinger Theatre is located in Franke Park next to the Children's Zoo on Sherman Boulevard. Parking is ample; better yet -- Foellinger Theatre offers free parking at all concerts. Reserved and Bleacher (general admission) seating for Divapalooza: $10 For additional information call 260.427.6000 or go to http://www.fortwayneparks.org/.