Disney's Phineas & Ferb: The Best Live Tour Ever!
is a brand new stage show from Feld Entertainment, which will hit the stage in Fort Wayne at the Allen County War  Memorial Coliseum Expo Center, on Friday, October 28 for two shows, at 4:00 p.m. and 7:00 p.m.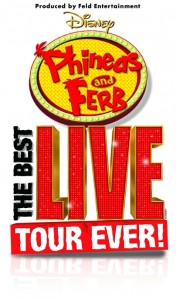 From the opening number, the audience will be whisked on a high-energy ride that is part action, part adventure and part rock concert, while they move it and shake it to a soundtrack of hit songs from the animated series, including "Gitchee Gitchee Goo," "Squirrels in My Pants," "Backyard Beach," "Busted," "Today is Gonna Be a Great Day, " and "Summer Belongs to You." Familiar songs serve as a main ingredient in the plot, advancing the story from scene to scene, while taking on a whole new feel when fused with fresh, original choreography and inventive special effects. Fans of this outrageous Disney show will love this delightful live event, a truly one-of-a-kind family experience! Tickets are available at the Memorial Coliseum Ticket Office and online. For ticketing links and more information, visit
www.memorialcoliseum.com
.