Need help in finding information about a long-lost relative for a family history project? How about trying to find photos for a high school reunion? Are you a military veteran wanting to track down buddies? You're in luck!
The Genealogy Center
at the main branch of Allen County Public Library (ACPL) in Fort Wayne contains more than 332,000 printed volumes and 362,000 records of archival nature on microfilm and microfiche. These stats make the Genealogy Center at ACPL the largest collection of genealogy and local history materials in a public library in the US. It is the second largest collection of its kind in North America.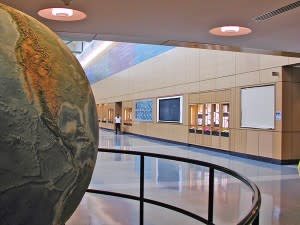 In 1961, Fred J. Reynolds, Head Librarian of the ACPL in 1961, started the genealogy department. Over the next several years, Reynolds gathered archival materials for the department and hired staff with an interest and knowledge in genealogy. Today, the Genealogy Center, located on the library's second level, equals 43,000 square feet or two football fields. More than 1,200 new items are added to the genealogy collection each month. Beginners find the most help from the city directory section. A city directory, like a phone book, contains the name, address, and phone number of the head of household. It also contains the name of each occupant in the household, their occupations, ages, and relationships to each other (spouse, child, in-law, etc.). The
ACPL Genealogy Center
contains 48,000 city directories representing thousands of cities around the nation. The directories from major cities like Boston date back to the 1700s. If you cannot find what you're looking for, be sure to ask the trained genealogists on staff for help