Fort Wayne's Historic West Central Neighborhood emerged as a prominent residential area on the banks of the city's canal in the 1830s. Over time the neighborhood grew from a haven of the working class, putting them within walking distance to their jobs to a retreat for the upper and middle classes. The houses began to grow in size and splendor. Pretty soon the neighborhood was home to a variety of styles spanning the 1830s to the 1950s. Just west of downtown, Fort Wayne's West Central neighborhood has remained close to the all the action as our downtown continues to grow and regain prosperity. One of the best ways to enjoy the holiday season, is also one of the most simple ways. Rediscover the hidden beauty of our city!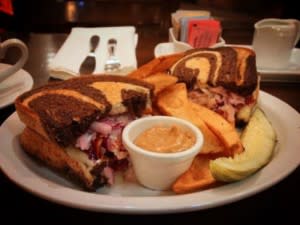 Step 1: Find a traveling buddy! Whether it is your mom, sister, friend, or significant other, it is always more fun to enjoy the crisp evening air with a friendly face.
Step 2: Enjoy a nice dinner to keep you warm. Downtown Fort Wayne is home to some of the best local restaurants. Enjoy classic Italian cuisine at Toscani's, sample some Irish pub fair at J.K. O'Donnell's, or treat yourself to an epic grilled cheese and tomato soup like you've never had before at The Dash-In. Wherever the place, make sure you get your fill!
Update: Toscani is Permanently Closed.
Step 3: Get a warm beverage to begin the walk. Fortezza Coffee has a great selection of your favorite soul-warming beverages. Grab a peppermint mocha to really set the mood, or stick to a nice hot chocolate or chai tea if you want to stay away from caffeine.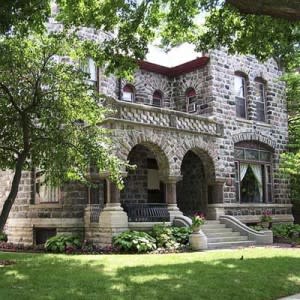 Step 4: Set out to enjoy the sites! Head down to the West Central neighborhood and take a stroll back in time, through Fort Wayne's rich history, as you follow the neighborhood along the river. Many of the homes put out lovely light displays for the season, so those can be your beacons.
Allow yourself to just wander along and not worry about directions; bop from lighted house to lighted house. Enjoy the quiet of the night and the streets. Stroll down Berry, Wayne, and Washington streets to see the where the city's most prominent families used to reside. Some of these homes include the former residences of Ronald MacDonald, the owner of the General Electric Plant, and H.G. Olds, the owner of the wagon and railroad car works.
Pick up a map at the Visitors Center, or download one here. Anyway you decide to do it, Fort Wayne's West Central neighborhood is a treasure of the city and well worth a visit!