Share Popeye's love of Olive Oil at a new specialty store in the Fort Wayne. (Yes, we know Olive Oyl is a person, but we bet she loved the product as well.) The
Olive Twist
, located in the Covington Plaza on Fort Wayne's southwest side (they also have an Auburn location), has won the hearts of many cooks with its selection of gourmet products. Locally owned and operated by Lori and Terry Berndt, the boutique specializes in olive oil and aged balsamic vinegar.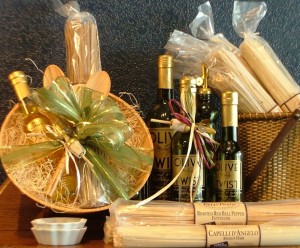 Curious about the taste of a particular variety? Try a sample at their tasting bar. Create your own "twist" to discover a new world of flavor! Tasting oils before you make a purchase ensures that you find the right product to suit your taste and your cooking style. Staff members will also be delighted to make suggestions and help you learn new ways to enjoy these age-old delicacies! After sampling you'll likely want to grab a bottle for yourself. The bottles come in a variety of sizes, 
200 ml, 375 ml, and 750 ml
,
sure to please any cook. Can't make it in the store? The Olive Twist offers
online
ordering, too.