Located just northeast of Fort Wayne, and a bit off the beaten path, you'll find the quaint Amish town of Grabill, Indiana. Scenic farms and horse-drawn buggies lead the way to this appealing village that boasts unique shops, antique stores, and an afternoon of adventure.
Discover the Country Shops of Grabill, an impressive store loaded with antiques, primitives, finished oak, glassware, painted furniture, and other unique items. Other stops include the Catalpa Tree Shops, Mother Hubbard's, Katie's Kountry Korner, and Miller's Country Store. A nod to the days of yesteryear, H. Souder & Sons General Store looks like something right out of an old western movie. The façade resembles an old country store, and the inside boasts old-time treats and kitsch.Think Coke memorabilia, ice cold bottled soda, penny candy, homemade jams, fresh roasted coffee, and local Amish cookies and baked goods.
When you think of an Amish getaway, delicious, comforting, homemade food comes to mind. From homemade desserts and made-from-scratch noodles, to pies with fresh fillings and real crust. When visiting Grabill, make sure to try a taste (or a slice) of the Amish way of cooking. You won't be disappointed!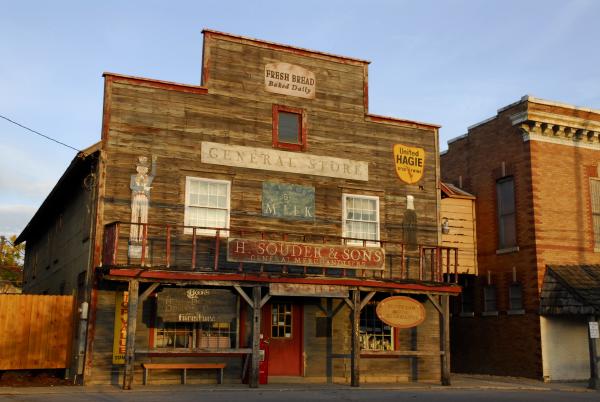 Grabill Inn
If you're looking to have a true Amish-style meal, Grabill Inn is the place to go! You'll enjoy home-cooked noodles, chicken, bread, pies and more. They even feature an array of homemade barbecue and pasta, if that is more your speed. If you ask anyone about the best thing to eat at the Grabill Inn the overwhelming response is their pies – all homemade and from scratch!
Grabill Country Sales
Grabill Country Sales offers a full buffet for breakfast, lunch and dinner. The buffet features slow-roasted meats, homemade sides and fresh baked pies. You can even shop for Amish-style delicacies, including plenty of made from scratch desserts and quality meats, to take home to recreate your own comforting meal.
H. Souder & Son's General Store and Coffee Cabin 
Going to the Coffee Cabin at H. Souder & Son's General store is a real treat. You'll find plenty of homemade baked goods including pies and cookies, old-time barrel candy and bottled sodas, as well as Amish preserves and fresh-made sandwiches. Everything is made from scratch, and it shows! Don't forget to grab a fresh smoothie, or slow-roasted coffee, to quench your thirst.