If you're like me, and can't live without the arts(I even have a Support the Arts license plate), you'll be happy to know Fort Wayne is home to several art related venues. Here are a few of my favorite  stops to take in some art, in all its forms:
Cinema Center:
 Located in the heart of downtown Fort Wayne, this place is a film buff's dream come true. From a foreign flick, to the latest indie film, there is always something engaging playing. The theater recently got an upgrade, with the addition of a new digital projector.  Bargain hunters will appreciate the discounted weekday shows:  $6 General Admission, $4.50 Seniors/Students, $3 Members, $2 Senior/Student Members. They also offer several events throughout the year. Bottom line: this place is awesome. Why would you ever want to go to the multiplex again?
FWMOA
:  Not far from the Cinema Center you'll find another artistic gem.  Our artist museum boasts permanent and temporary exhibitions of American fine and decorative art, including exhibitions exploring the cross-cultural connections between artwork and artists from diverse ethnic and national backgrounds. You also will find a 
lending library
 with over 8,000 art and culture volumes and periodicals for public use, a hands-on learning environment for young children, and a Print and Drawing Study Center available for first-hand study of our vast collection of works on paper. If you're in the market for a gift for someone, make a beeline for the Paradigm Gallery shop, which features the art and fine craft of over 75 regional and national artists working in a variety of media.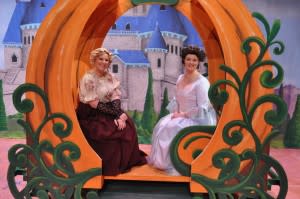 Civic Theatre
: I recently saw a production of "Les Mis," and was blown away. You'll be pleasantly surprised by the caliber of local talent. Productions take place in the Arts United Center, adjacent to the art museum.
ArtLink: 
 Artlink is a non-profit contemporary art gallery, whose mission is to feature emerging and mid-career artists and provide educational programs for the community. Artlink holds eight exhibitions each year in the main gallery. What I appreciate is no two exhibits are the same. And the intimate space makes you feel a connection with the work. These activities would make for a great way to enjoy a fall afternoon.  Get ready to be inspired!