Some cities boost a great nightlife--ideal for adults. The downside is that those with kids scramble for family-friendly activities. Luckily Fort Wayne is not lacking in that department. Come see for yourself why Fort Wayne has been named among the 100 best places to raise a family.Whether you're coming in for a day, or a whole week, there is plenty to see, taste and do. Here's a start: There's nothing like a day at the zoo on an Indian summer day. The
Fort Wayne Children's Zoo
has been consistently ranked one of the best children's zoos, and it's easy to see why. The range of animal life is impressive--they have everything from giraffes to wallabies! There is also a good amount of hands-on activities, perfect for curious minds. I recommend you have a picnic before or after in nearby Franke Park. There is plenty of greenspace to enjoy! If the weather isn't cooperating, there is plenty of fun (and learning) to be had indoors at one of Fort Wayne's many quality museums. Inspire budding scientists at 
Science Central
, a museum dedicated to teaching kids about the wonders of sciences. Expect plenty of hands-on activities here. Do you have a nature lover on your hands? The
Botanical Conservatory
is a must! They have an impressive permanent exhibit. (Cactuses, anyone?)  Their seasonal exhibits--like endangered butterflies-- are not to be missed. If the kids are thirsty there is an on-site cafe.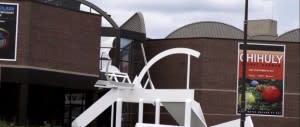 Maybe you have an aspiring Picasso in the family? Well then the
Fort Wayne Museum of Art
is a no-brainer.  Their Early Learning Center is designed to expose young minds to the world of art. Remember it's never too early to inspire! Maybe your kids have a lot of energy they need to get out of their system. What better place to do that than in the
great outdoors?
 Fort Wayne and Allen County offers over 81 miles of biking, hiking, and even kayaking trails. The network of trails offers safe, fun places to get outdoors with the family – and our trails connect you to our parks, attractions, downtown and more! Here's to yours days ahead in Fort Wayne filled with laughter, fun and memories!