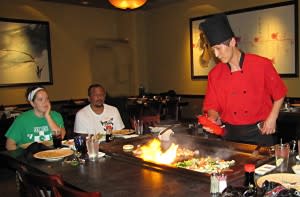 Come watch the artistry of Japanese chefs at the new Sapporo Japanese Seafood & Steakhouse here in Fort Wayne.  You and the kids will enjoy watching the chef juggle not only your food but also cooking utensils and various fresh ingredients used to prepare your meal right in front of you. The beautifully-appointed interior of the restaurant boasts a well-stocked bar and a very friendly and helpful staff.  Jessica and Simon Hong, who own the facility, take both reservations and walk-ins.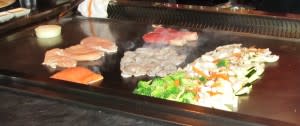 "We have a private section for large parties and we also serve carry-outs," said Jessica, who offered to let me watch and photograph a hibachi with one of their talented chefs.  The diners who were at the table graciously allowed me to take pictures, and one diner herself was also behind her camera, recording the skills of Hibachi Chef James Chang. All entrées are served with onion soup, salad with ginger dressing, 2 pieces of shrimp appetizer, hibachi vegetables and a bowl of steamed rice (or substitute with fried rice for $1.99 extra).  This is not a place where one would just stop in to grab a bite as with fast-food eateries; it offers an incredible encounter in fine cuisine meant to be taken slowly and enjoyably.  Sapporo also has a children's dinner carte du jour, and we're talking about Kids' Hibachi Steak, Kids' Hibachi Filet Mignon and more.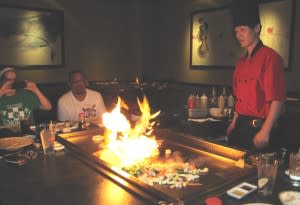 Some of the menu selections are such that are not offered in other local restaurants, especially their combos.  You can opt for Hibachi Sea Scallops (or Salmon, Orange Roughy, etc.) or dine elegantly on Filet Mignon & Shrimp & Lobster (talk about elevating the ordinary surf & turf dinner!).  Steak, chicken, vegetables can also be ordered with sauces such as ginger, teriyaki, mustard sauce and seafood sauce.  Also available are various salads, soups, rice, noodles, sushi and sashimi, appetizers (Gyoza, Shumai, Edamame, Soft-shell Crab Tempura, and more) and Bento Box Entrées. Finally, there is the fun special event meal listed on the menu:  "For birthday, anniversary, or any special occasion, we'd like to help you celebrate with a unique Sapporo touch. We'll prepare our pineapple boat for you and capture the joyous spirits of this occasion with a photograph." Sapporo Japanese Seafood & Steakhouse is located at 6150 Lima Road (across from Home Depot), Fort Wayne, IN  46818.  The phone is 260 739 6064, or visit www.sapporoindiana.com. Are you drooling yet?  Don't forget to "like" Sapporo on Facebook!