There's something about blue skies, sunshine and warm weather that makes enjoying a meal (and delicious drink!) that much more pleasurable. There's no shortage of places to dine al fresco in Fort Wayne, no matter what your taste buds are in the mood for. Need some help deciding where to grab a bite and take in the scenery? Here are just a few of the great places where you can dine outside in Fort Wayne!
Wine Down Tastings and Tapas offers a unique dining experience featuring shareable plates, craft beer and cocktails, and of course, wine. Wine Down is a great place to unwind, wine and dine, or enjoy a night out with friends. Their spacious patio for outdoor dining even overlooks the award-winning Parkview Field – the perfect view whether a Fort Wayne TinCaps baseball game is in action, or you're just enjoying the views of downtown Fort Wayne. Make sure to take part in their wine tasting – Wine Down offers over 50 wines for tasting and by the bottle!
Recommended Cocktail:
Connoisseurs of other spirits need not worry, because Wine Down does cocktails just as well as they do wine. If you're a whiskey lover, you'll want to try their Smoked Old Fashion. The experience of watching this cocktail being made makes it taste even better. Rather than smoking the whiskey, the bartender uses a torch to smoke a plank of hickory and then sets the glass over it to capture the flavor.
If you ask any Fort Wayne local for their favorite dinner-and-a-breeze recommendation, chances are their answer will include The Deck. Located in downtown Fort Wayne, The Deck offers a great dining experience with a beautiful view of the St. Mary's River. Looking for a place to grab a cold brew or tasty concoction? The Deck's bar has become a staple during the warm-weather months. You can even enjoy a pontoon boat ride before or after you eat, making The Deck a great place to enjoy those long summer nights.
Recommended Cocktail:
Their signature drinks pack a strong punch. Try The Standard Russian: made with vodka, ginger beer, mint, and lime.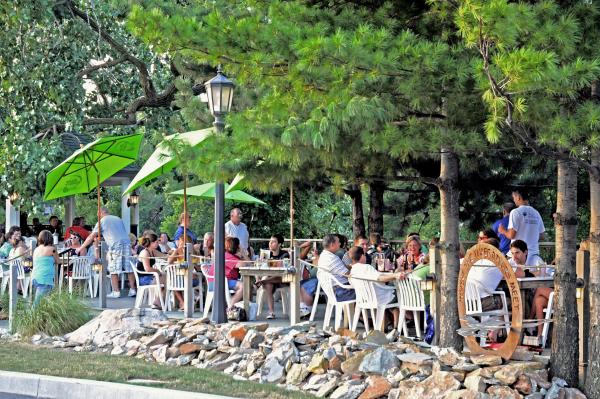 Top-notch menu? Check. Creative cocktails? Check. Smooth jazz? Check. Beautiful, extensive outdoor seating? Check! If you're looking for somewhere for a night out on the town with a classy, but relaxed, ambiance, Club Soda is the place to go. Known for their signature cocktails and delicious Gouda dip, Club Soda is a great place to relish a beautiful night. Take your group out on the patio and enjoy good company, good food and great music while enjoying culinary delights!
Recommended Cocktail:
While they offer a full bar, you'll want to jump straight to the martini menu. Whatever your preferences: classic ("for the purist"), a little tart ("a walk through the Garden of Eden"), sweet ("the dessert martini"), or deep in color ("the dark side"), you'll find what you like in their 20+ item martini menu, a true reflection of their expertise as a Fort Wayne craft cocktail staple of the last 15 years.
What's better than grabbing a big slice of pizza, a pint of cold brew and enjoying a little fresh air in the heart of downtown Fort Wayne? Pint and Slice is known for their delicious New York-style pizza pies, and wide-range of beers that you can enjoy no matter what the season. Grab a seat outside and enjoy watching the hustle and bustle of downtown Fort Wayne from your seat on Calhoun Street.
Recommended Brew:
Try one of the many great craft beers in their collection – perfect with that fresh-from-the-oven slice.
Cork 'N Cleaver has long been known as one of the best places to eat in Fort Wayne, due largely in part to their inventive and award-winning salad bar, hand-cut steaks, and signature cleaver menus. They recently constructed an outdoor seating area and lounge, designed to create a comfortable outdoor dining experience. Come for the meal, and stay for the cozy outdoor atmosphere.
Recommended Cocktail:
Fruit-lovers rejoice for Cork's Pink Pony (a raspberry treat) or their Vox Drop, a take on a mouth-puckering Lemon Drop!
These are just a few of the great choices for extending those warm summer days with an outdoor dining experience – many others line our streets, be sure to find your favorite!