How do you know it's summer in Fort Wayne?  Everyone's eating outdoors! With a winter that seemed to drag on a bit long, Fort Wayne locals are ready to be outside enjoying the sun and the warm weather.  Many local restaurants help diners enjoy the beautiful weather by offering outdoor treats and entertainment throughout the summer.  We've got the inside scoop on where to enjoy good weather and great food.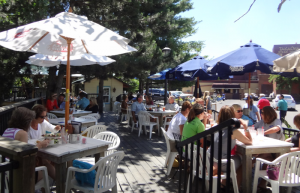 One of the most popular spots to dine al fresco is The Deck at
Don Hall's Gas House
. Located on the river just behind the restaurant, The Deck offers casual dining at it's best. With many of the great menu options from the restaurant, a tiki style bar, and the city's only riverside dining you're sure to relax and enjoy a casual evening with friends and family (the restaurant side of the deck is family friendly).  Located right off the Rivergreenway, it's a great stop after a long bike ride or walk on the trails. Treat yourself to garbage for breakfast (yes, garbage) at
Cindy's Diner
on the corner of Wayne and Harrison Streets in downtown Fort Wayne.  "Garbage" is a blend of eggs, potatoes, cheese, onions, and ham cooked up to equal yummy goodness. If you can't find a seat at the counter, grab a seat at the picnic benches outside and enjoy your breakfast and coffee.  Cindy's also offers a lunch menu that is sure to please the heartiest of appetites. Looking for a cool treat at the end of a hot day?  Check out Zesto's ice cream stand.  Known for their sweet treats, the opening of Zesto's is a sign that spring is officially here for Fort Wayne locals.  The walk up ice-cream shop will give you the vintage feel of enjoying ice cream the way it was intended, sitting on the curb chatting with your neighbors.  That's right; locals eat their ice cream while sitting on the curb around the parking lot.  It's a great way to get to know your neighbors! Looking for great Mexican food?  Then you'll enjoy an outdoor Fiesta at
El Azteca
on East State Street.  With a complete bar boasting over 100 tequilas, you're sure to get a margarita that will cool you off and quench your thirst.  Their traditional menu is loved by locals as well.  Have a seat on the patio and enjoy!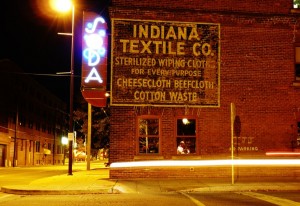 Speaking of cocktails, check out the outdoor dining options at
Club Soda
.  Whether you're just enjoying one of their legendary martinis or you're having dinner you'll love the patio.  It's the perfect spot for a romantic dinner for two under the stars.  The full menu is available to diners dining on both the upstairs and downstairs patio.  Not a fan of the sun?  Enjoy the upstairs covered deck to get out of the sun. If a pint is more your thing, stop by
JK O'Donnell's
for a Guinness and fish and chips. Their authentic Irish menu is sure to please.  The patio is located right on Wayne Street in downtown Fort Wayne, making it a great to socialize with passersby as well as your dinner companions.  You'll also want to try their array of Irish whiskies and mixed drinks.  They're sure to please! These are just a few of our favorites - let us know if you have any that we should add to our list!