Crazy about ribs? You're in luck. Fort Wayne is home to many establishments, where you can find a good rack 'o ribs. Here are a few options:
Ziffle's Rib Bar: Located on the northeast side of town, mouth watering ribs, wings, pizzas and rolls are just a few favorites at Ziffle's. Locals keep coming back for their famous house barbecue sauce. Choose from dine-in their Family Room or Bar Area (over 21).
The Rib Room: The Rib Room, in East State Village, is a bit of a Fort Wayne institution, founded in 1957 as Nick's Bar.  Over the years it has grown in stages to a 270- seat restaurant known for BBQ ribs, steaks, and seafood. They boast a dining room, family room, and banquet facility. *Unfortunately as of 2015 the Rib Room is only selling their famous ribs at their carryout window located next to Nick's Martini & Wine Bar on E. State Blvd.*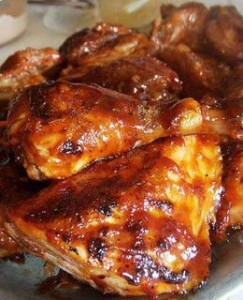 Shigs in Pit: What can you expect from this establishment? According to their website, their goal is to provide the finest ingredients and quality service at a fair price.  They have positioned themselves to offer a wide variety of smoked meats and outstanding side dishes. Choose from casual or elegant buffets or let them customize a menu to fit your needs. They offer full bar service, linen service, and on-site staffing. 
Buffalo Wings & Ribs:  Don't leave Fort Wayne without trying Buffalo Wings & Ribs famous slow Roasted Baby Back Ribs; Full Rack for $19.99; Combo Ribs and Wings for $14.99, and a half rack for $11.99. Their special sauces include: Mild or Mild Garlic, Medium or Medium Garlic, Hot or Hot Garlic, and Extra Hot or Extra Hot Garlic. So, there you have it, carnivores. These places are enough to turn a vegetarian into a meat eater. (Well, maybe.)