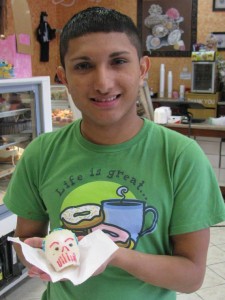 Dia de los Muertos is one of my favorite holidays and one, which I think, should be more universally adopted. I remember learning about it in elementary school (yes, my school was
that
awesome – go Koala's!) and it just struck a chord in my soul. Since then, I've always been aware of this holiday and eventually started celebrating it myself. Dia de los Muertos is a beautiful way to honor family and celebrate the lives of those who have gone before us. Dia de los Muertos takes place annually on November 1-2, in connection with the Catholic holidays of All Saints Day and All Souls Day. The true meaning of this holiday is to gather with friends and family to pray for and remember loved ones who have passed away. It originated and is celebrated most strongly in Mexico but also recognized in Europe and other countries around the globe. Dia de los Muertos dates back thousands of years to Aztec cultures. Pre-Hispanic people even celebrated their ancestors by keeping their actual skulls around as trophies to display during rituals symbolizing death and rebirth. Personally, I'm okay with that tradition staying in the history books. Fast-forward to the twenty first century and you'll find the holiday is thriving, having evolved with modern culture. Families go to cemeteries to be with departed souls. There they build private altars consisting of favorite foods and beverages (of the deceased) as well as photos and memorabilia. In modern day society, many celebrants also build these altars in their homes. This is especially true here in Fort Wayne where early November weather isn't exactly picnic worthy. Darn that pesky equator. The thing I love about this holiday is the joyous tone. It's all very colorful and positive; remembering the life and celebrating the good things of our deceased friends and family.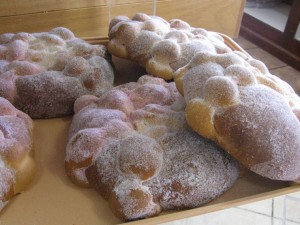 Festive Traditions
Flowers: Orange marigolds are used as they're thought to attract souls of the dead
Sugar skulls – gifts that can be given to both the living and the dead
Pan de muerto – a sweet bread made in a variety of shapes
Lighted candles
Dance to honor deceased relatives
Picnic blankets at cemeteries and eat favorite foods of loved ones
Build altars at homes
Regardless of your background, Dia de los Muertos can be a wonderful holiday to adopt. Celebrate with us right here in Fort Wayne, Indiana!
Come downtown to our newly renovated Fort Wayne Museum of Art and join the artistic celebrations.

Day of the Dead Celebration / Dia de los Muertos Celebracion October 29, 2011 (4:00 – 7:00 pm) FWMoA, 311 East Main Street, 46802 Features live music, poetry, traditional Mexican dance and costume. Of course, Mexican food, tequila and cerveza will be on hand too.
Enter your own artwork and/or enjoy others' at the Continuum Art Gallery downtown Fort Wayne for their Day of the Dead Installation. The exhibit will be on display from November 18 – December 3.
Create your own altar at home using pictures, candles, flowers and other meaningful objects.
Get supplies – including delicious baked goods – at the mouth-watering George's La Baguette Bakery (2021 Broadway, Fort Wayne, Indiana)