This post is part of our Three Rivers Festival feature series. Click here to view all Three Rivers Festival posts.

No child should go through a summer deprived of amusement rides, live entertainment, games, prizes and a costumed character parade. No need to call the travel agent, you can find all this and more at the Three Rivers Festival's 42
nd
annual Children's Fest.
This event is one of the festival's original assets, and just as Three Rivers has evolved and changed to become bigger and better since its start in 1969, Children's Fest has changed to offer more fun and educational activities for your kids than ever before! Kids can meet all their favorite Fort Wayne character and mascots from the Komets, Mad Ants and TinCaps - they're all hanging out at Children's Fest! The kiddos can also have souvenirs to take home when they create and participate in some of the hands-on craft activities. And let's face it, children like to get decorated too, so make sure to stop by a booth for face-painting fun.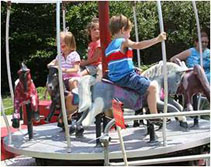 Children's Fest is a two-day event, running from July 15-16 at the IPFW Campus. There is free admission for adults and children, and this includes free access to amusement rides. Don't miss a chance to make long-lasting family memories (that won't break the bank) at Children's Fest!