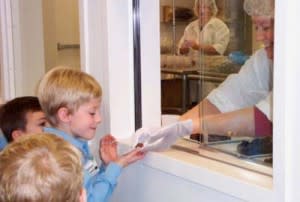 Chocolate, especially good chocolate, has the power to unite people from all walks of life. Most people can't get enough of the sweet stuff. I know I can't! Fortunately for chocolate lovers,
DeBrand Fine Chocolates
provides a firsthand look at the delicious production process. (Samples, anyone?) Now that we've piqued your interest, here's how you can get in on this "sweet" deal. The tour is hosted at their Auburn Road location. The building holds their flagship store, production facility, mail order department, warehouse and corporate office all under the same roof. DeBrand is truly a hometown success story, as the company was founded in 1987 by local female entrepreneur Cathy Brand-Beere, and it has grown by leaps and bounds. They offer "open" tours for the general public on Tuesdays at 10 am and Thursdays at 1 pm year-round and Tuesdays and Thursdays at 10 am and 1 pm between Memorial Day and Labor Day.  Additionally, they can schedule a private tour for a group of 12 or more anytime. The cost of the tour is $5, which gives tour-goers a rebate for $5 off a purchase of $10 or more at the end of the tour. The entire tour takes between 30 and 45 minutes. Guests start by watching a short introductory video, after which the tour guide will explain how chocolate is made. (I went on a tour a  few years, and I remember the video being very informative. ) Then guests are taken to the mail order department to learn how our chocolates are shipped. Next up is a stop at each of their 3 kitchens. The tour guide will explain the different processes that the chocolate and the centers go though at each kitchen. Guests will also get a chance to sample chocolates at each kitchen. Yes, you heard me right...samples! After the tour,  you are permitted to use the rebates on chocolate or try some of our desserts from their full dessert menu. I recommend taking the tour of our facility because it's a great way to see what happens behind the scenes at a world-class chocolatier. For anyone who has never tasted our chocolate this is a wonderful opportunity to sample a variety of the different products they make. But don't just take it from me! Make plans to experience DeBrand's goodness yourself. Visit their website for more information about
tours.