Last week I attended a friend's shower at DeBrand Fine Chocolates on Auburn Park Drive. I had passed the building before but had no idea that they held events. Upon arrival, I was greeted by a friendly staff and was instantly hit by the irresistible aroma of chocolate. My friend called me over and pulled me into a beautifully arranged event space. I gazed around and saw a tower of chocolates and menus delicately placed at each table.
DeBrand Fine Chocolates Event Space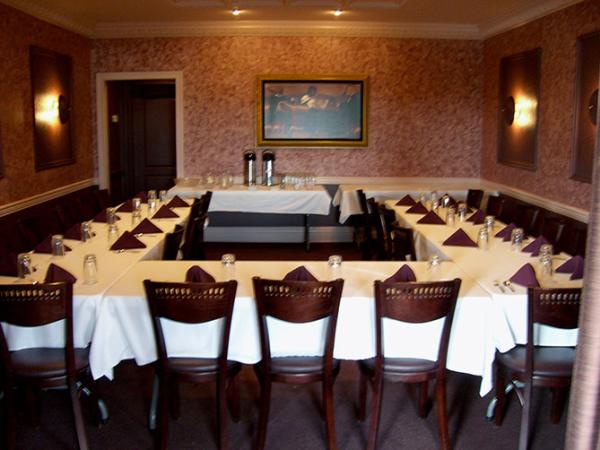 As we took our seats our servers quickly rotated to each person, taking orders. I had no idea DeBrand did desserts so I was confused, but the server kindly walked me through each item giving incredible detail (I went with the sundae with milk chocolate, creamy caramel, and pecans, WOW). We then had plenty of time to play games and try some of those beautiful chocolates.
As guests started to leave I locked arms with my friend and chatted with her as she waited to pay her bill. Our server informed her that she still had 20 dollars left on her minimum. Curiosity got the best of me and I asked what they meant, "Oh, that's the best part!" she explained to me that she didn't even have to pay a room rental fee, she simply had to spend 300 dollars on product ($150 per hour), an easy task with so many amazing dessert and chocolate options. She purchased a gift card to cover the 20 dollars and we let the servers know just how much we enjoyed everything.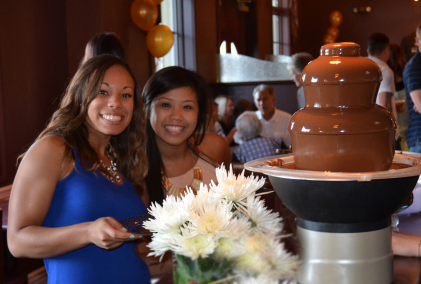 If you are tired of stressing over cleaning, cooking, and decorating for your parties and events, you should definitely consider having your next event at DeBrand Fine Chocolates. Their staff is friendly and knowledgeable and they take the stress out of event planning.