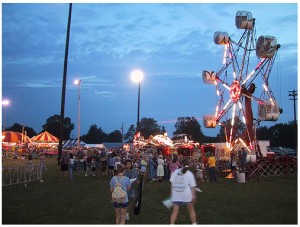 Take a stroll back in time at the cruise-in classic car show at this year's annual Harlan Days Community Festival. Or hear bike engines rip and roar at the arena motocross show. The festival runs from August 4 through 6, and features events for the entire family.
Enjoy a small-town atmosphere in Harlan, Indiana, a community on the northeast side of Allen County. Harlan is just a short drive from Interstate 469. Festival events are held at Harlan Community Park.
If you are feeling up to the challenge -- participate in the annual 10K run, bright and early Saturday morning. Or stroll down to the grand parade to catch a glimpse of this year's grand marshals -- Tony and Terra Brantley. Terra is a news anchor at WANE-TV in Fort Wayne. Later, enjoy bratwurst, BBQ chicken, homemade pies and more at the food tent.
This annual festival, a community favorite since 1947, has grown to be the biggest Harlan event of the year! Profits from the festival go toward maintenance and improvement of the community park. The festival runs through Saturday night.
Thursday, August 4 (Kid's Night) 5 p.m. - Opening Ceremony (Followed by opening of carnival rides, midway and food tent) 6 p.m. - Children's Parade 7 p.m. - Motocross in the Arena
Friday, August 5 6 p.m. - Drawing for Free T-Shirts Begins 7 p.m. - Corn Hole Tournament, Vocal Contest and Bingo 7 p.m. - Vocal Contest on the Midway Stage
Saturday, August 6 9 a.m. - Antique Tractor Pull 10 a.m. - Grand Parade 4 p.m. - Cruise-In Car Show 7 p.m. - Lincoln Highway Band Performs
Click here for the full festival schedule and directions. And follow Harlan Days on Twitter for the latest updates.