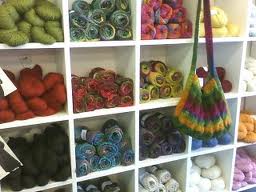 I love crocheting and the holidays always seem to get my creativity in high gear. Just visit any Michael's, Hobby Lobby, or Joann Fabrics and if you have an ounce of creativity, you'll be conjuring up something to keep your hands busy this fall and winter. While I love visiting the stores listed above, and find many great yarns and ideas, I find it especially inspiring to visit local spots where yarn lovers unite to share their love of knitting and crocheting. Below are two of my favorite yarn shops in the area. The first is Sarah Jane's Yarn Shoppe located at 3400 North Anthony Boulevard, just two blocks south of IPFW. The shop offers a variety of colorful yarns ranging in price as well as a variety of classes, including beginning knitting and crocheting. Classes change monthly. Stop in and you'll find owners – and sisters - Linda Yovan and Sally Rang chatting with customers or just knitting and crocheting in the shop. If you'd like, bring your own project into the shop, have a seat, and join others doing the same – many times on their lunch hour. Sarah Jane's Yarn Shoppe is open Tuesday and Thursday, 10 a.m. – 6 p.m., Wednesday and Friday 10 a.m. – 5 p.m. and Saturday 10 a.m. – 3 p.m.  Check out the Website for upcoming fall classes at
www.sarahjanesyarnshoppe.com
.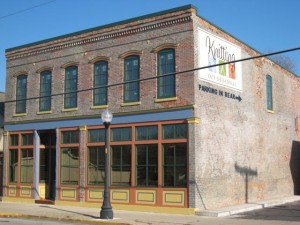 Knitting Off Broadway is another great place for knitters and crocheters. Owned by Jan Bell and her daughter Natalie Bell, the shop is filled with warmth, color and a great selection of natural, and luxury yarns. The shop is busting at the seams with all sorts of yarns, buttons, and other crafting notions. There's a full line-up of fall classes at
www.knittingoffbroadway.com
. The shop is located at 1309 Broadway in a newly- renovated building and is open Tuesday, Thursday, and Friday from 11a.m. – 5 p.m.; Wednesday 11 a.m. – 6 p.m.; and Saturday 11 a.m. – 4 p.m. Parking is located behind the building and the entrance is the rear door. Well – there you have it…two must-see yarn shops in Fort Wayne that any knitter or crocheter must see! Any other favorites that you love to visit?