Winter is here, and that means indoor activities. Why not channel your inner artist? Plenty of options exist for artistic expression. Here are a few:
Wine and Canvas:
Wine and Canvas is a mobile business that brings the party to your favorite venues, corporate events, or living room! And of course, wine is a part of the experience and creative process. Artists instruct customers with step-by-step through re-creating the featured painting of the day. At the end of the event, you'll take home a work of art that you created. The price is $35. Be sure to check their 
calendar
 for venue details.  Current venue locations include 
Biaggi's
, Naked Tchopstix, The Factory and Parkview Field, with new venues coming soon. The calendar is released on the 20th of each month.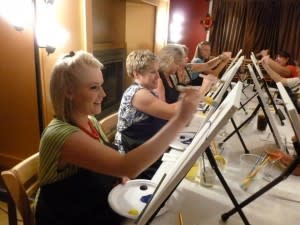 Bisque It: 
Located off of Coldwater Road, this studio has a wide selection of items. From vases to figures to piggy banks, they have it all! Items range from functional to just plain fun. The studio fee is $5 for the first piece and$3 for each additional one. (The studio fee is in addition to the price of the piece of pottery.)  Be sure to check out their various 
classes
. Note: The piece can take seven to ten days to be fired, depending on the current demand. You might need to make arrangements for pick-up.
ArtLink: 
Artlink offers various classes and workshops for children and adults.  The workshops have various skill levels from novice to advanced.  Figure drawing sessions with nude model are offered Monday and Thursday evenings from 6:30-9:30 pm. The sessions are open to all serious artists over 18 for a nominal fee of $3 an hour. Visit their
classes & workshop 
page to learn more. So, there you have it - three of my favorite ways to get your art on! What are some of yours?