Some of the following houses may not be decorating their houses in 2015, click here for the 2015 decorated houses!  
Click here to see all posts about what's going this season in Fort Wayne!
  Looking for the most outlandish holiday spirit? I've found it here in Fort Wayne! Last year I wrote a post that featured three homes around Fort Wayne that have been favorites on our annual holiday home tour. But three is just not enough! Feast your eyes on these spectacles of the season.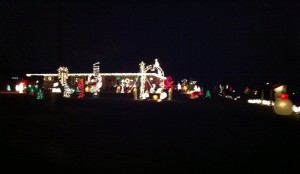 "Fa-la-la-la-la-Lot of Yard Decor"
Northwest Fort Wayne
9346 Auburn Road
This yard is decorated for many holidays, not just Christmas.
Over 20 different scenes set up in the yard and on the roof featuring classic and modern Christmas decorations.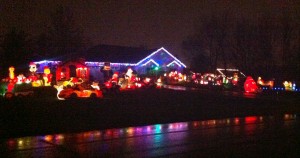 "Wallen Road Wonders"
Northwest Fort Wayne
"Blow-up Bonanza" at 750 West Wallen Road has nearly 20 blow-up decorations in the front yard.  These larger-than-life displays will leave you wide-eyed in wonder.
"Candy Land" at 224 West Wallen Road features what my child's imagination sees as hundreds of trees decorated in the colors of the season.
Caution: there are not great spots to pull over and enjoy these displays, so take advantage of the low 35 mile per hour speed limit as you drive by.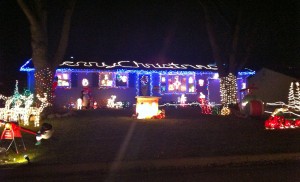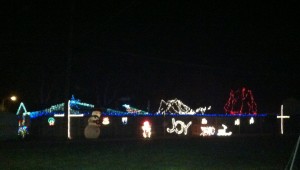 "Season's Greetings...on all sides"
New Haven, Indiana

1828 South Tyland

Over 30,000 lights cover all four sides of this house and both sides of the roof!

A unique feature of this home is that the owners have the lights on at night and in the morning. Using timers, they take advantage of daylight savings and turn the lights back on from 5-8 am each morning now through January 2nd. What a lovely way to start the day!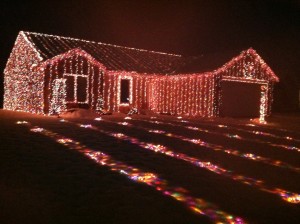 "Festive Fanatic"
Southwest Fort Wayne
8512 Forsythia Court in Westcott Ridge
The lights don't just dazzle...they dance! Tune your car radio to hear the music behind the motion.
As far as we know, this is the only house in Fort Wayne that even puts lights over their yard!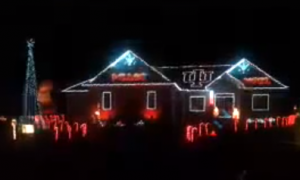 "Hoosier Hysteria"
Southwest Fort Wayne
Plumbago Court in Vera Cruz
Some people are basketball fans. And then there is this house.
Of Yahoo! Sports fame, thanks to their choreography of Christian Watford's 3-pointer.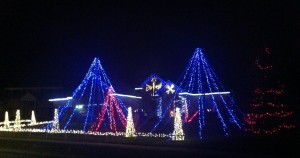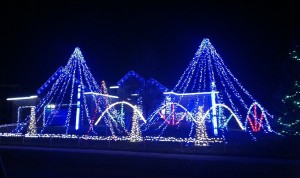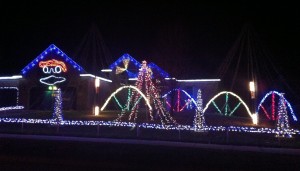 "Symphony of Sights"
Southwest Fort Wayne
Corner of Ruffner and Caravelle in Bridgewater addition
This house has been lit since 2006 and has grown to feature of 40,000 lights timed to an hour's worth of music.
Tune your car radio to 91.3 to hear the music making these lights move. You can even watch these lights online at lacawb.com!
I encourage you to grab a coffee or hot chocolate from a local spot like Old Crown, Firefly, the Friendly Fox, or DeBrand location to take on your home tour. While you're touring the town, listen to 95.1 or 97.3 and enjoy the sounds of the season as you search for crazy Christmas houses. And let me know what houses I've missed! To help you navigate, I've put this year's homes plus last year's (minus "The Clark W Griswold" house, which will not be lit this year) in a Google Map. Just add your starting location and final destination to enjoy an evening out gazing at the lights.