Some of the following houses may not be decorating their houses in 2015, click here for the 2015 decorated houses!  
Christmas in our house is all about the traditions. Keeping with that theme, these annual Crazy Christmas House posts have become quite a tradition for the Insider. It seems you all weren't satisfied with the list from 2011 or 2012, so I'm back with an updated list of all the houses you want to visit to supercharge your Christmas spirit.
Once again, I've created a Google map with each house to help you navigate through and around Fort Wayne. The entire route is around an hour and a half but you should factor in time to sit and enjoy the homes. I recommend starting downtown at the Santa display and dinner at Coney Island downtown, but if you prefer to start from home, simply replace the Coney Island address with your starting address. Complete the experience with your favorite people, a cup of hot chocolate from DeBrand's, and your favorite holiday tunes in your speakers. The hunt for Crazy Christmas Houses is sure to become one of your own holiday traditions. Highlighted new additions to the list include: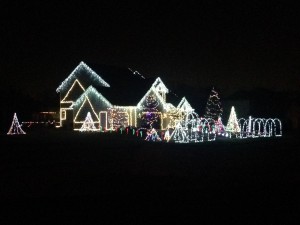 Nothing Crooked about Christmas
Northwest Fort Wayne, 1618 Crooked Creek Parkway
Quiet the car and roll your windows down to hear the Christmas music orchestrating the dancing lights
Be sure to check it out from all angles as the lights continue around the house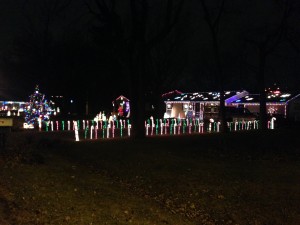 Corner on Christmas
North Fort Wayne, 4015 Kentland
This is the address for one of several homes on the corner of Kentland and Louisedale that go all out with Christmas cheer
Enjoy the lights, Nativity and classic Christmas decor covering these homes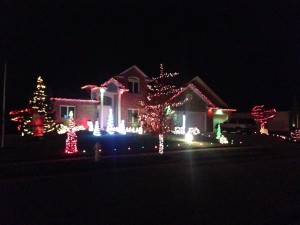 Mallard Lakes Merriness
Northwest Fort Wayne, Bufflehead Run
Be sure to tune your radio to the station indicated to hear the music the lights dance to
The drive through the neighborhood is quite lovely as well, with many neighbors displaying Christmas cheer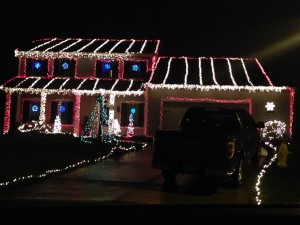 Peppermint Stripes
Northeast Fort Wayne, 1904 Pebble Creek
The peppermint striped roof is visible from Maplecrest Rd near I-469
The entire neighborhood has great, classic decorations for you to enjoy as you wind your way back to this stop
If there are any I've missed, please leave a comment! Your favorite house might just make the 5th anniversary list.  
UPDATE: We've listened to your comments and are back with an update on Crazy Christmas houses. We realize this still isn't all of them, and they aren't included on the google map above, but here are a few of the houses that our readers have recommended:
721 Pelham Drive off Washington Center Road in Ludwig Park subdivision. This house has a mail box that says "Letters to Santa." If a child puts a self addressed stamped envelope with there letter they will get a letter back from Santa. 
 4940 S. Harrison St. Louis Ave - Waynedale Corner of Chancery Place and Willow Grove Drive - Fort Wayne 
Emerald Lakes off Covington (complete with Santa in the driveway) - Fort Wayne 
13525 Plumbago Court in Vera Cruz off of West Hamilton Road (synchronized to music and collecting food for the needy)
Allen County Crestwood Colony off North Clinton by Holland Elementary - Fort Wayne 
1818 Morgan Creek off Bass Road (synchronized to music) - Fort Wayne 
Hartzell Road just south of Moeller Road - New Haven 
1504 Duesenburg Drive - Auburn 
In Blackmen Prairie on the west end of the addition 
Fremont Corner of Bradbury Ave and Koons St.
Waynedale Cedar Ridge Subdivision off Butler Road....Canbury/Foxcrof cul-de-sac Electric Ave. off of Taylor St. 
Also, don't forget the Christmas light displays in the heart of downtown. Stop by the big Santa on the PNC building at Main and Berry, and then hit the Merry Christmas Wreath at the Indiana Michigan Power building. Be sure not to miss the light display on the sky bridge above Calhoun St. or Aunt Millie's Northern lights off Pearl Street. Drive around and see them all, or if the night is nice, grab a hot chocolate and make the trek.
If that sounds like too much walking, drive down to Franke Park for the Fantasy of Lights; it's back and bigger than ever this year! Even Jefferson Pointe is lit up for the season. Be sure to check out their towering tree, which is synchronized to Christmas music.
No matter where you go in Fort Wayne, you are sure to get a dose of the Christmas Spirit!