Some of the following houses may not be decorating their houses in 2015, click here for the 2015 decorated houses! 
You know the ones. You can see them from down the street and you wonder if they can be seen from space. What you know for sure is that you must see them. For my family, it's become an annual tradition. I encourage you to grab a coffee or hot chocolate from a local spot like Old Crown, Firefly, the Friendly Fox, DeBrands or any Higher Grounds location. And don't forget to tune your radio to 95.1 or 97.3 and enjoy some holiday tunes as you explore Fort Wayne in search of the crazy Christmas houses. Here are just a few of our must-sees each year.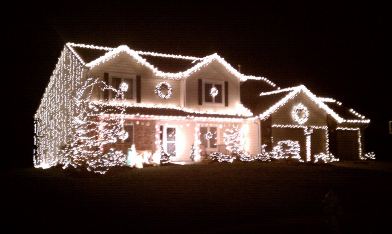 The "Clark W Griswold" House
Southwest Fort Wayne, 514 Blackthorn Cove (Falls of Beaver Creek addition)
This year, the house is lit with over 15,000 lights, which is 5,000 less than last year. Those unused lights were donated to Habitat for Humanity and used in their holiday houses display.
If you spot the homeowner outside during December, you'll likely see him proudly wearing his Clark W Griswold jersey.
The cost of these lights: increase of $200 in electric bill for the month of December.
Featured on Good Morning America in 2009.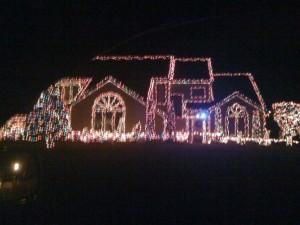 "Santa's" House
Southwest Fort Wayne, 2828 Emerald Lake Drive (Emerald Lakes addition)
This home features more than 70,000 lights on not just the home, but in the yard and even the basketball hoop. The homeowner (a.k.a. Santa Claus) begins putting up the lights in October.
Santa uses the help of more than 40 extension cords to keep his home lit to welcome visitors.
Most nights, you will find Santa Claus sitting outside in a rocking chair on his driveway.
You are encouraged to park and get out with your kids so they can visit Santa.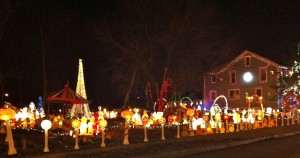 "Electric Musical" House
Downtown Fort Wayne, Corner of Taylor and Electric Streets (adjacent to St. Mary's River)
If you love vintage Christmas, you will love the yard filled with the decorations of Christmases past.
Be sure to look in all the windows on the porch for even more decorations!
The best feature of this display is that the lights are choreographed to holiday music. As the signs out front indicate, tune your radio to 95.7 FM and watch as the lights dance to the music.
Do you have a favorite home that is decorated for the holidays? We'd love to know what houses to add to our annual tour!