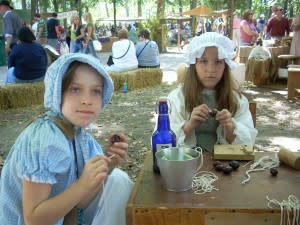 If you're a crafty person or someone who appreciates innovation, you'll want to visit the Johnny Appleseed Festival. The festival is designed to reflect life in the late 1700s- early 1800s, the time when Johnny roamed the country planting apple trees, as the legend goes. Crafts are a big part of the festival for all ages. You can make buckeye necklaces in the children's section of the festival. I fear most kids today don't experience the enjoyment of working with their hands. This is a good opportunity to expose kids to using their creativity in a unique setting. There is usually a low cost to make the crafts.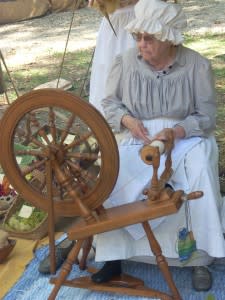 In the encampment areas re-enactors demonstrate craft techniques of two centuries ago. Spinners in period dress assemble their spinning wheels and weave woolen thread which may become fine sweaters. Spinning is such a tedious process that I marvel at the patience it takes to achieve one ball of yarn.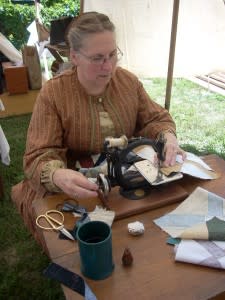 It is fun to watch the precision used to sew simple shirts and skirts by seamstresses on what appear to be child-sized sewing machines of long ago.
Stroll by the dozens of stalls selling crafts and pick up a colorful wreath and other fall items of décor for your home. Many items are handmade. They are lovely reminders of the time when Nature ruled creativity and not Pinterest or Michael's craft stores.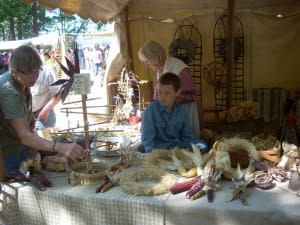 This is my favorite Fort Wayne festival for so many reasons. For many people the best part of the Johnny Appleseed Festival is that it is FREE admission! The festival includes food, dancing, antiques, roving entertainment, children's game area, music, military reenactment, farmer's market and more! The dates and times are: Saturday, September 21, 2013 10:00 am- 6:00 pm Sunday, September 22, 2013 10:00 am- 5:00 pm For more information go to the festival website. The festival takes place in Johnny Appleseed Park right next door to the Allen County War Memorial Coliseum.