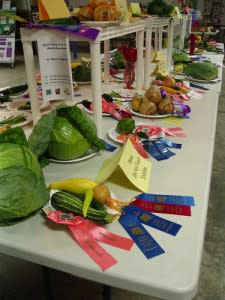 My favorite thing about going to the Allen County Fair is the crafts. As a former 4-Hr, I can predict that now is probably the time when kids are desperately putting the finishing touches on posters, cake decorations, barbecue projects and cooking masterpieces. The Allen County Fair has come a long way since it began in the early 1980s. At first, there was only one building and a number of striped tent tops that  protected all the 4-H exhibits. But, over the past 15 years, a number of buildings have sprung up so that now, all the crafts and hand work projects are inside air-conditioned buildings with smooth cement sidewalks and floors between. What a switch from the days of crushed limestone and raccoons that liked to raid the cake displays! In the first building  behind the Home Economics center, I really love to check out the collections. Stuffed toys, trading cards, key chains, and pencil collections have been on display before. The sewing displays, too, are so much fun to explore.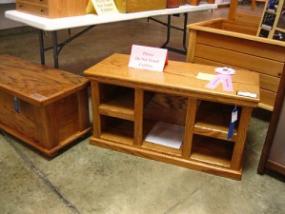 Formals, pea coats, and a regular forest of simple a-line skirts and aprons are there, as well as the occasional suit or formal gown. The 'crafts' section takes up at least two, usually three rows of tables. This is where kids put in handmade needlework, fiber arts, bath tub buddies, gelatin soaps, thrown ceramics and anything else that could be simply designated as a 'craft project.' Photography – oh, so many of the pictures are excellent! Black and white close-ups of unique objects, color photos of field trips, salon prints in every hue of mat board – how on earth can the judges choose just one photo for that fluffy Champion ribbon? And if fun giftwrap is your thing, there's plenty of inspiration piled onto tables behind the photographs. Empty packages are gift wrapped in everything from balloons to netting and, once, an ironing board with mop hair and cleaning supply gloves. That was a really nifty display. If woodworking and pets are more what you like, stroll through the covered walkway, past the water fountains and 4-H office to the next building. There will usually be a row of fish tanks, a set of small animal displays – don't tap the glass – and a parakeet or two. The interior decorating of each fish tank is always a treat to see; iridescent pebbles, tiny castles, a bubbling treasure chest, and other unique pieces are all added to create the perfect, tiny 'world' for a gold fish or guppy.  And, there's the woodwork area: really, these pieces are of professional grade. How can a kid make a parquet checkerboard? Or some of those large pieces, like the loveseat/coatrack combination? Or the perfectly smooth nightstand in polished wood? This building also houses the garden and flower arranging displays, and the models. Tiny fighter jets, shiny race cars and entire air force bases might be on display. And the flowers – corsages, bouquets, baskets and planters are set up in green profusion. The mini- and cloverbud-4H projects are set up on two long sets of tables, too: be prepared to see at least a dozen no-bake cookies, handmade pillows, an occasional Lego display and an insect collection. (Don't worry, everything is fully enclosed so there will be no escapes!) Nearby are the animal barns. A separate building is kept each for pigs, goats, cows/calves, horses, fowl and rabbits. Some of the turkeys on display are enormous! And they make the real turkey gobble – perhaps the only place you'll hear that in Fort Wayne.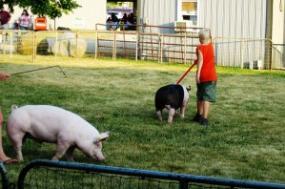 The rabbits are probably the cutest animals there. There are so many varieties – Angora, Dutch, lopshire – you name it. Because the fair is in July, the animals usually have a number of fans aimed every which way, so that all creatures can keep cool – unless it is a chilly day. Then the fans are off and the big, open air windows are closed to keep it cozy. Plenty of food and water dishes are also in evidence, as the kids displaying their animals need to be there every day to care for their livestock. If you're looking for something fun and creative to view at the Allen County fair, I highly recommend the 4-H displays. Everything is so well-presented that you can't help but glean a little inspiration from something you see! The Allen County Fair takes place July 22-27.
For more information check out Visit Fort Wayne.