Crafts and cookies: the two words have wonderful consonance, and they also combine to create a great pre-holiday experience that is fun to share! Whether you're shopping for gifts, or just hunting for a fun place to walk around, why not check out what Fort Wayne has to offer?
November 18
Northrop High School – Coldwater Road
Hours – 9:00 am – 3:00 pm FREE
A tradition for 30 years, the Northrop Craft Bazaar is proclaimed to be "One of the largest in the area" and it features all hand-made merchandise. The Bazaar is hosted by the parent booster organization of Northrop High School's instrumental student programs, which supports groups like their Big Orange Pride Marching Band.
December 1 and 2 (Friday and Saturday)
Allen County War Memorial Coliseum
Hours: Friday 5-9 p.m. and 9 a.m. – 5 p.m. Saturday
If it's hosted at the Coliseum, it has to be big. Handmade, farmhouse style, refurbished furniture – you name it. Creativity is queen here, and you will definitely want to explore.
December 2
Salomon Farm Park
Hours – 1:00 pm – 5:00 pm
$5/person
There is a holiday market with this event. But there is a lot more going on! From dog sledding demonstrations to a visit with Father Christmas and wagon rides, there is something for everyone to do here. Remember to wear warm clothes, as this is an outdoor event. Admission is $5 per car – the last car is admitted at 4:30 p.m.
December 2
Lifeway Wesleyan Church – Moeller Road
Hours – 8:30 am – 2:30 pm
Hosted by the Lifeway LOFT (Ladies Outreach and Fellowship Time) group, this bazaar is filled with handmade items. From wooden toys to charming dolls, this is the place for locally-sourced items. And be sure to check out the cookie walk. Visitors take a pie box, fill it with any of the cookies on the table (the lid of the box must close) and then pay $10 per box. (Last year, there were over 300 dozen cookies from which to choose!)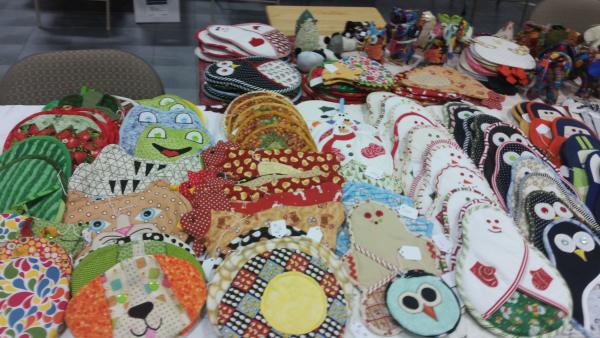 December 2
10700 Aboite Center Road
Hours – 9:00 am – 3:00 pm
Hosted by the people of St. Elizabeth Anne Seton Catholic Church, this craft fair offers wreaths, homemade décor, artisan jewelry, and more.