It's hard to believe I've been a Counting Crows fan for more than half my life. I remember how much I wanted to learn to play guitar after hearing "Mr. Jones". And I learned how – eventually, sort of – but couldn't actually play "Mr. Jones" because my guitar was a little too beat up (it wouldn't play an F chord!). I remember grabbing
August and Everything After
at the mall when in Indy for the state speech meet and
Recovering the Satellites
at a midnight sale when I was at Purdue – yes, back when people still bought CDs. I've lost count of how many times I've seen them live (somewhere around 14). Oddly enough, I've never seen them in Fort Wayne. That's going to change, though, when Counting Crows returns to Fort Wayne Sunday, December 7, 2014, to play the Historic Embassy Theatre.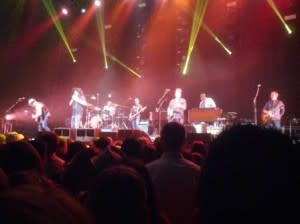 August and Everything After
, Counting Crows' first and arguably best album, is near the top of my "all-time greatest" list. Since its release in 1993, the band has recorded five additional albums of original material, including this year's
Somewhere Under Wonderland
, and an album of covers. I've thought a lot about where I'd place
Wonderland
on the list of their best work, and I feel pretty confident saying it's a close third, after
August
and
Recovering the Satellites
. Ranking the band's albums is tough business, as even their "worst" album is still great and better than most of what's out there. While I am a fan of the kind of music Counting Crows makes – and the talented musicians who make it – it's frontman Adam Duritz's words that have always been the bigger draw for me. There are few contemporary lyricists who write such poignant, poetic lyrics, and his turns of phrase, imagery, and epic storytelling wouldn't be out of place in a lit class. So what can I say about the live show? Well, it's generally a mix of new stuff, hits, and a couple deeper cuts thrown in for good measure. Yes, I could tell you the songs you'll probably hear, but what fun is that? (If you want to cheat, though, visit this site for past setlists: http://www.setlist.fm/search?query=counting+crows). One of the unique things about Counting Crows' live shows is their penchant for reworking tunes. You'll see this in several different ways: they'll speed up or slow down the tempo of a song, they'll perform the song acoustically (see the version of "Mr. Jones" on
Across the Wire: Live in New York City
, featuring the band's appearances on MTV's
Live at the 10 Spot
and VH1's
Storytellers
, as an example of both), they'll change the lyrics, or they'll sandwich part or all of one song inside another song ("Round Here" and "Rain King" are the best examples). On stage, Duritz invests each song with an immediacy and intensity for which there are few venues better than the Embassy. I have no doubt this will be an amazing show. I really can't say enough about Counting Crows or their live performances. I first saw them in 1997 (also the year I first saw Ben Folds), and their performances have only improved. Believe me when I say they sound just as good today as they did then. Tickets are still available and range from $45 to $85 (additional fees may apply). For more information, please visit www.fwembassytheatre.com or www.ticketmaster.com.