Drivers in downtown Fort Wayne have been counting down the days until the TinCaps opening day.  Thanks to the countdown sign on the outside of Parkview Field, passersby have been counting down the days until that first crack of the bat, the fireworks, the cold beer, and those delicious apple dumplings.  Counting down the days not only tells us when baseball season begins but also gets us ready for downtown to come alive with the excitement the Tincaps season brings.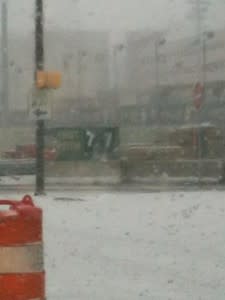 As someone who's been at opening day from the first season of Parkview Field in 2009, I'm reminded of that special feeling opening day brings.  We're filled with the anticipation of the upcoming season, and the joy that comes from meeting up with old friends, shaking off this long winter, and feeling the sun on our faces.  Opening day holds promise for what's to come, a clean slate for a summer where anything's possible, and a chance to relax and just be part of the party.
The 2013 season marks the 5th season for the TinCaps and they're giving away a $5,000 cash prize to one lucky fan in attendance for the first game.  Mike Nutter, TinCaps President, has also assured fans there will be numerous prizes given away in waves before the cash prize is given.  Prizes will include TinCaps game-worn red jerseys.  The $5000 winner will be selected from the jersey winners. In addition to the giveaways on opening night, post game fireworks will dazzle fans.  Every fan will receive a schedule magnet as they enter the park. Fans attending opening day will also enjoy Thirsty Thursdays.  Every Thursday, Parkview Field sells domestic draft beer for $1 with other beers and mixed drinks also on special. The home opener will be played on Thursday April 11, at 7:05 p.m.  The first four season openers have been sellouts so be sure to get your tickets in advance.  Tickets can be purchased online or at the box office window.