Looking for a dependably delicious destination for a business lunch, dinner out with the girls, or cozy meal with the whole family? Look no further than Cork 'N Cleaver. With a solid menu that takes in hand-cut steaks, fresh seafood, chicken, chops and slow-roasted prime rib, there's sure to be something at Cork 'N Cleaver to please every member of the party.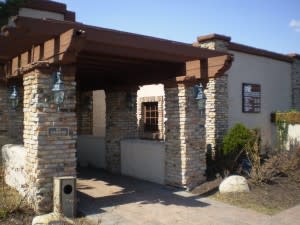 Although Cork 'N Cleaver's only Fort Wayne location sits along Washington Center Road, the restaurant is actually part of a bigger national franchise that's been around for decades, (the first Cork 'N Cleaver opened in Scottsdale, Arizona in 1964). The inviting décor and atmosphere call to mind a Southwestern hacienda, and provide a much-appreciated way to warm up during this chilly time of year! In keeping with the overall theme of the restaurant, menus are cleverly presented on actual meat cleavers (don't worry, there are no sharp edges)! Most meals here start with a trip to the extensive and well-stocked gourmet salad bar, a popular Cork 'N Cleaver attraction, and reason enough to visit the restaurant on its own merits. This isn't any ordinary iceberg lettuce-bacon bits-and-croutons buffet. The veritable smorgasbord of veggies and toppings is a meal in and of itself. Customers will find several different kinds of lettuce to lay the foundation for a dizzyingly impressive array of delicious toppings, homemade dressings, caviar, fresh strawberries — even jellybeans and M&Ms! Chilled plates keep everything nicely icy cold; add on a bowl of the signature cream of broccoli soup as a perfect and popular way to round out a lunchtime visit. You can't go wrong with a steak for dinner, or perhaps an order of tender prime rib, also available in sandwich form at lunch served on a crusty hoagie roll with horseradish sauce and au jus on the side. Sides go above and beyond the usual fries and chips into some interesting and tasty alternatives such as cheesy potatoes au gratin, steamed asparagus, sautéed garlic mushrooms and mashed rum sweet potatoes. For dessert? A six-inch-tall slab of Mud Pie is a no-brainer, a glorious creation of mocha ice cream, chocolate cookie crust, whipped cream and hot fudge. Cork 'N Cleaver is located at 221 E. Washington Center Rd. For more information, call (260) 484-7772 or visit
www.corkncleaveronline.com
.