It's like peeking under the Christmas tree before everyone wakes up on Christmas morning. You almost hold your breath before you look. Walking into the display room at the
Fort Wayne History Center
(302 East Berry Street) is like that, just before you experience the
Festival of Gingerbread
.
As you walk up the stairs (or take the elevator) to the second floor, the heady scent of ginger, cinnamon and pine wafts through the air. You step through the short hallway, pause just a second at the threshold, and then – you're inside. In the soft light, you will see delicate pine trees, decked with all sorts of antique ornaments. Mechanical toys will be waving and bowing as they "decorate" or "prepare" for Santa Claus. Soft music croons in the background. Then, you see the gingerbread. Tables are loaded with different masterpieces. From cookie-dough cathedrals with hard candy stained glass windows to first grade mini-marshmallow igloos, the variety is fascinating. Some of the gingerbread creations are loaded with enough candy to open a small store – these are definitely the dream creations of children who have savored every bite of making their own "Candy Land" worlds. Other pieces are made by professional bakers. Think of a solid sugar crèche, or a boot made from sculpted cookie dough, complete with a pretzel stick playground. Some displays are even wired with electricity, so that the interiors can light up.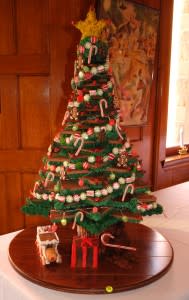 The Festival of Gingerbread opens the night before Thanksgiving, on Wednesday, November 27. Each weekend, during the Festival, special activities will be offered for kids. Special events include visiting Santa Claus, listening to storytime, decorating cookies, experimenting with the "Science of Sugary Structures," and creating ornaments. More information on dates and admission prices for these events can be found on the History Center's
website
. For potential bakers who want to enter the Festival of Gingerbread with their own creations, the entry deadline is this Friday, November 8. Display pieces are to be turned in on Thursday and Friday, November 21 and 22. More guidelines can be found on the Festival of Gingerbread
entry form
. Regardless of whether you are a baker or just a connoisseur of fun art, the Festival of Gingerbread is a wonderful place to begin the winter season!