Waynedale, while located in Fort Wayne City Limits, has an identity all of its own. The community was annexed in 1957, but the name stuck. Residents take pride in being from this south side Fort Wayne neighborhood. Also kept in tradition are multi-generational family-owned businesses, who have continued to do business in Waynedale since their start. As many of the businesses are within walking distance of our residential neighborhoods, most people don't have to travel far to find what they need without leaving the neighborhood. In the neighborhood for a few hours? Here are a few must-sees/dos:
Chief Richardville House: 
The Chief Richardville House, at his original site at 5705 Bluffton Road, bears several monikers, including the oldest Native American dwelling in the Midwest, the first Greek Revival Style house in northeast Indiana, and the oldest house in northeast Indiana. Perhaps most notable is the fact that it was home to the wealthiest man in Indiana at the time of his death in 1841. Miami Indian Heritage days programs are held at the Chief Richardville House from 1-4 pm on the first Saturday of the month, May through November. Sponsored by the History Center, admission for each Saturday event is $7 adults and $5 students and seniors. History Center members and children ages 5 & under are free.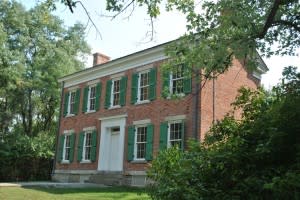 Hanson Observation Deck
: The Hanson Observation Deck is open to the public, offering a breathtaking view of the quarry in action. The deck is safely enclosed with fencing. To get there, follow Sandpoint Road West, the Observation tower will be visible on the left side, 2 minutes past Ardmore Avenue.
Something Old Something New:
Looking for a bargain? Something Old Something New Consignment Boutique, located at 2519 Lower Huntington Road, carries all styles of ladies clothing, shoes, jewelry and accessories. From unique to casual, Something Old Something New has it all!
Azar's Big Boy:
Hungry for American fare? You can't go wrong with Big Boy! Recently the restaurant, located at 6800 Bluffton Road, completed an extensive renovation, which included improvements like new carpet, ceiling, booths, table tops, a refacing of the salad bar, new counters at the cash stand area, and a new hostess counter.
Curley's:
A Waynedale staple, Curley's Village Inn has been serving up cold ones for a long time. The owner, Mary Armstrong, and her partner, Irishman Dudley O'Carroll, lend a down-home feeling and extra touch to the long-time establishment which sits high above the St. Marys River just across from Foster Park. In the summer, the deck is a popular gathering place. In addition to patronizing these Waynedale busiensses, be sure to look for information on the annual Community Picnic, Memorial Day Parade, Taste of Waynedale and more.  For more information about Waynedale, visit the
Waynedale News
Web site
.