I'm sure there's a psychological reason for it but during the summer I crave salads and lighter fare while during the winter I crave comfort foods like warm soups,  creamy potatoes, and stews that warm you from the inside out.   It was certainly hard grueling work but I managed to do the research and come up with a list of some of the best comfort foods Fort Wayne has to offer.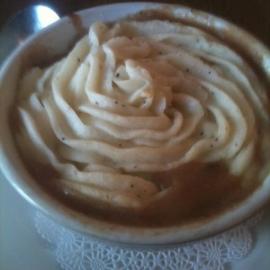 Sheppard's Pie at JK O'Donnell's This is my all time favorite go-to comfort food in the winter and nobody in Fort Wayne does it better than JK's.  Known for their Fish and Chips, Irish whiskey, and never ending supply of Guinness JK O'Donnell's is a local favorite.   All of those things are excellent but don't overlook the Sheppard's Pie.  Made in hearty gravy the beef carrots peas and onions are perfectly cooked and topped with mash potatoes.  This meal is guaranteed to warm you from the inside out and leave you satisfied.
Meatloaf Mondays at Henry's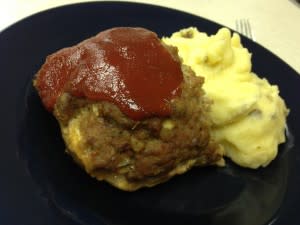 Locals know that you no longer have to cook like Mom did to enjoy the taste of your childhood.  Thanks to Meatloaf Mondays at Henry's on Main Street you can find the comfort of home without every stepping into your kitchen.  Locals also know that you need to get there pretty early in the evening because once it's gone, you'll have to wait till next week.  If meatloaf isn't your thing, be on the lookout for their Chicken Pot Pie.  It will warm you right up too.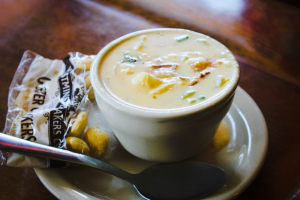 Soup of the Day at Calhoun Street Soup Salads and Spirits Calhoun Street Soup Salads and Spirits (CS3 as the locals call it) is guaranteed to have at least two great pots of homemade soup on every day.  I personally recommend my favorites the Chicken Gnocchi and the Creamy Potato.  Their warm goodness is only made better by their use of fresh ingredients and the love only a local favorite can put into the pot.  Be sure to pair it with the Chicken Cordon Blue Sandwhich or one of their great wraps to make a complete meal.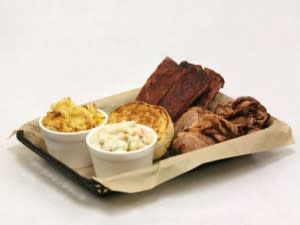 Corn Spoon bread at Shigs in Pit Shigs in Pit is known with locals for their amazing BBQ.  What began as a competition BBQ team has turned into a great local restaurant full of great BBQ.  When you stop in for dinner and order the Shig Platter (there's enough to share trust me) be sure to order the Corn "Spoon Bread" as a side.  This stuff is the perfect combination of classic corn bread and your grandmother's corn casserole/scalloped corn.  No offense carnivores but I could make a meal out of just the Corn Spoon Bread.  It's creamy goodness made with sweet corn and that corn bread crust is the source of all things comfort especially in the winter.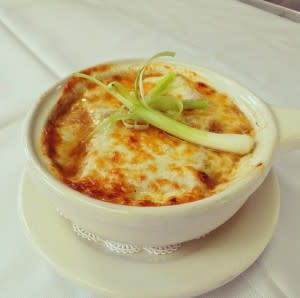 French Onion Soup at Club Soda Their menu reads "This is another one of those things you shouldn't screw with. Onion Soup. Crouton. Cheese."  They're exactly right and they have the formula down to a science.  The warm broth, cheese that stretches to your mouth as you lift your spoon and that perfectly toasted crouton makes something simple elegant yet comforting.  Stopping in for lunch and looking for something more than soup?  The Chicken Acorn Risotto will warm you up quick.  With sautéed pear and leeks, blue and asiago cheeses and cayenne-cumin roasted pumpkin seeds it's a dish that will stick to your ribs and make you feel like you've been hugged the rest of the day. What are some of your favorite places for delicious comfort food in Fort Wayne? Let us know in the comments! And, find more great dining options on the Visit Fort Wayne dining page.