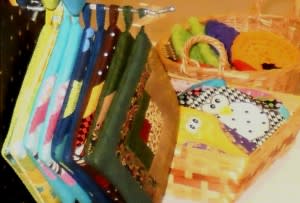 If you're looking for something to do on an upcoming Saturday morning, come visit the Winterfest Farmers Market on Fort Wayne's south side. Located in the lower level of the Karpeles Manuscript Library, this year's Winterfest features products from local homemakers. Kids and adults alike can find something fun to purchase. Children's handmade flannel blankets are sold in a variety of colors and designs to choose from. I purchased homemade Amish noodles  and frozen, free-range chicken pieces from a local farmers. Customers can also place orders of organic eggs with them. Farmers markets are notorious for their assortment of homemade jellies and jams, and Winterfest is no different. The delicious, fruity flavors are separated by juices and by pulp mixtures, according to customers' preferences.
Come check out Winterfest yourself!
Winterfest Farmers Market is at the Karpeles Manuscript Library Museum 2410 Fairfield Ave. It runs January – May, every 2nd Saturday of the month, from 10:00 a.m. – 2:00 p.m. The last Saturday market ends on May 10, 2014. Click here for more about the Karpeles Museum and Winterfest, and click here for more information about other farmers markets in the city.