Have you ever been given a castle as a gift?  Fort Wayne has! The Castle Gallery, at 1202 W. Wayne St., is an exquisite home that was built and given to B. Paul Mossman and his wife as a wedding gift in 1905.  The building has served many purposes over the years, such as being the former site of the Fort Wayne Museum of Art, then apartments, and now a residence/art gallery.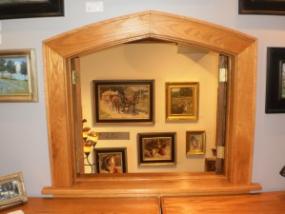 On a recent afternoon, I took advantage of the Gallery's free admission and close proximity to my downtown errands to take a tour. The friendly staff members – one of whom owns the building – showed me around the three fascinating floors of beautiful artwork.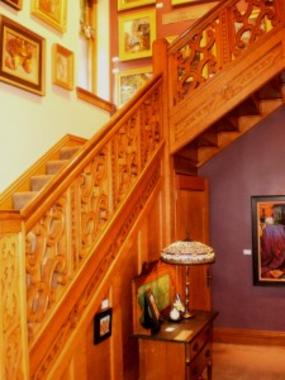 The Romanesque architecture and abundance of stained glass windows really were impressive!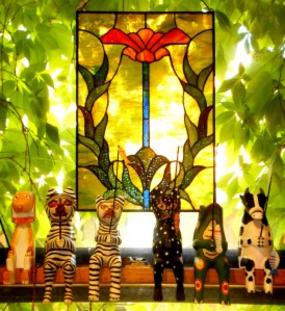 This setting makes it the ideal place for artist receptions, which occur throughout the year.  (View past and current exhibitions here.) Also, the third floor, which now serves as the owners' living room quarters, has been entirely renovated into a homey, modern loft, and it accommodates visiting artists with full amenities.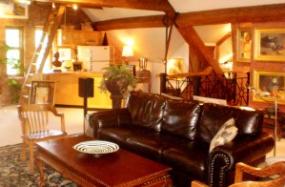 I enjoyed everything about this place, from the friendliness of the informative staff to the wide selection of quirky and realistic art!  There are two things to be aware of, though. 
As there are no elevators, the Gallery is not handicapped-accessible, and anyone with pet allergies should know that the owners' pets roam the building.
The Castle Gallery should be a must-do when visiting Fort Wayne, so come check it out yourself!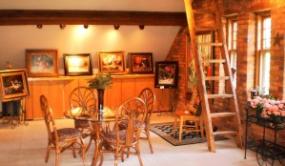 The Castle Gallery is located at 1202 W. Wayne St., in the West Central Neighborhood. 
It's within walking distance of the downtown district, the Carole Lombard house, and the following renowned restaurants:  Henry's, Das Schnitzelhaus, and Paula's.
You can visit it on Facebook here, online here, or call ahead at 260-426-6568 and toll free at 866-726-3699.  You can also email the Gallery at castlegallery1@comcast.net. Open Tuesday – Saturday, 11:00 a.m. – 6:00 p.m. 
Free admission!