The official start of the school year has begun for most of the Fort Wayne area. I work in a school and its already time for mid-term grades to be issued! What I like as a parent and educator is that learning can happen anywhere, anytime. In my opinion historic festivals are a good use of a family's time. That is definitely the case with the Johnny Appleseed Festival. This year's dates: Saturday, September 20 (10am-6pm) and Sunday, September 21(10am-5pm).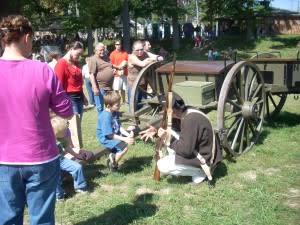 This is the 40th anniversary of this fun and FREE festival in which every part from cooking ham and beans over an open fire to re-enactors wearing wool clothing represents life as it would have been during Johnny Appleseed's era. It's not a coincidence that the festival's namesake has a burial site at the festival's location. After a visit to the grave, my family always ventures from one end of the festival to the other, not wanting to miss anything. There is a play area for younger children with games, straw maze and historic fun activities, such as dipping candles. My kids enjoyed watching and listening to re-enactors who stayed in character throughout the festival to inform visitors of what life was like during the 1700s. We've talked to soldiers, watched wives of soldiers sew uniforms, and chat with trappers to discover what its like to live rough on the land.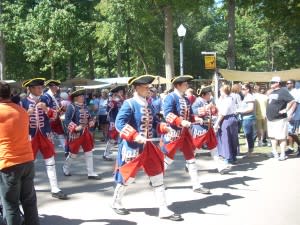 We've listened to cannons being fired, drum and fife corps and bagpipes being played throughout the days.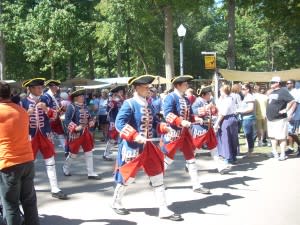 Then there's the food. Every appetite is stimulated by smells that waft on the breeze on the festival's grounds. Naturally, the emphasis is on products made from apples so cider, apple dumplings, apple fritters, caramel apples, fried apple slices with cinnamon are present. I'm salivating just thinking about them! Caramel corn, ham and beans, pork sandwiches, turkey legs, lemonade and other goodies are everywhere, making it easy to find food when a family member begins to complain about an empty stomach. Insider tip: I like parking at the Indiana Purdue Fort Wayne (IPFW) lot as the festival provides free rides on a shuttle back and forth. Parking is also available in the Memorial Coliseum lot for a small fee. It might be worth it to pay to park close if you have children as your group will probably be weary after your travel back in time. So bring your curiosity about our nation's past, adventurous spirit and taste buds to the Johnny Appleseed Festival. And if you see Johnny, tell him we're glad he made Ft Wayne his final home. 1502 Harry Baals Dr. Fort Wayne, IN  46805 FROM I-69: Take Exit 309A south to Coliseum Blvd (US 930) and turn left. Pass Parnell Avenue and Memorial Coliseum. Festival grounds are located behind the Coliseum.