When checking out all Fort Wayne has to offer, a good cup of coffee can be a quick pick-me-up for a full afternoon or a good chance to sit down and relax. Be sure to stop by at least one of these coffee shops during your trip to get coffee, a treat, or a meal.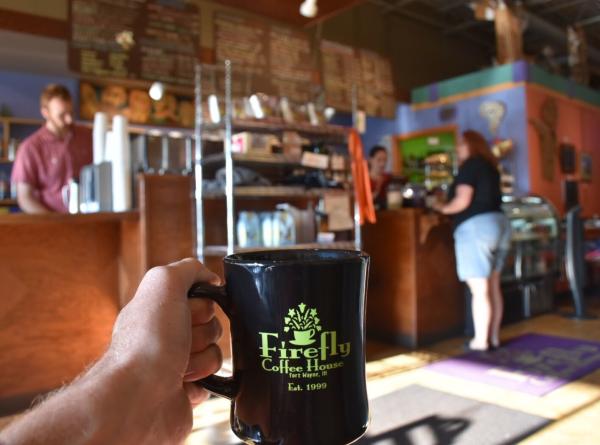 Firefly is a small coffee shop with plenty of tables, a few couches and armchairs, and outdoor seating for warmer weather. Firefly sells a variety of coffee drinks, teas, smoothies, baked goods, and some soups and sandwiches. They also display various local artwork and sell some arts and crafts.
Mocha Lounge is a larger shop full of tables and chairs, which can be a great setting for a larger group. Some of their drink selections include coffee, tea, hot chocolate, blended drinks, and iced coffees. They also offer food items such as pastries, some breakfast selections, and sandwiches.
Fortezza is just one of the many downtown coffee shops. They serve specialty coffee, bakery items, and brunch foods. Consider getting a window seat for a nice view of scenery as you drink your coffee. If a window seat isn't open, tables and leather chairs are also available.
Conjure Coffee, another downtown coffee shop, offers packaged coffee as well as freshly brewed coffee and food and drink products. The café includes specialty coffees and pastries including macaroons, doughnuts, and muffins. If you get coffee or other items at the café, the shop has a lot of seating, which includes bar seating, tables, and spots by the window. 
Friendly Fox offers more than just coffee. The downtown café also has tea, frappes, smoothies, milkshakes, meal options, and some alcohol. Friendly Fox has a small restaurant feel and with the variety of food, drinks, and treats, it's the perfect place to take your family for a quick afternoon snack or during mealtime.
For an extra treat, make a stop at one of the DeBrand Fine Chocolates to enjoy a nice sweet treat and a great cup of coffee. DeBrand Fine Chocolates serves up drinks ranging from coffees and cold brews to hot chocolates! If you're downtown, check out their newest location in the Ask Skyline Plaza where you can relax and watch the hustle and bustle of downtown Fort Wayne.
Since 1999, Old Crown has become a popular hangout for coffee meetings and study groups from IPFW. Located at 3417 North Anthony Blvd., Old Crown expanded their menu in 2009 to include beer, wine and spirits, along with a delicious lunch menu. It's open late on Friday and Saturday to help satisfy your late-night caffeine and hunger cravings.
Happy coffee drinking!