The foliage surrounding both sides of Clinton Street has transformed into different shades of orange and red. When you step outside you can feel a slight chill in the air. You can never tell whether you need a jacket or not every time you step outside. It's a feeling of nostalgia you get every year. It's finally time to retire the SPF 50 sunscreen and replace it with oversized sweaters and fuzzy socks. That's right, Fall has arrived in Fort Wayne, Indiana! 
Upon the arrival of cozy season, you can expect grocery stores and seasonal menus to come out with their own variations of pumpkin-flavored everything (I have even heard of pumpkin-spiced ramen and there are definitely mixed feelings about that one). I get it, there is just something about the holiday season that allows us to experiment with flavors that should — or should not ever — be a thing.
While we all know that PSL (pumpkin spiced latte) is practically a trend of its own, there are several locations in Fort Wayne offering the tastiest Fall flavored beverages that are definitely worth adding to your spooky season bucket list. All these drinks are only here for a limited time, so be sure to try them before it's too latte.
Fall Coffee Favorites in Fort Wayne, Indiana

Tazza Café
The seasonal menu at Tazza offered so many options. It was especially creative and had the most festive drinks from lattes to lemonades — all of which could be made vegan. Granny's Pecan Pie Latte is a must-try by the barista's recommendation, but make sure to come early. It's received so much hype, that even I couldn't get my hands on it. I opted for an Iced Candy Corn Latte, which was not too sweet and very well-balanced. It even had real candy corn toppings! There are also plenty of non-caffeinated options, so be sure to bring your kiddos here too. Other items on the menu include a Bloody Beet Latte, "The Great Pumpkin" Latte, Ghostbusters Latte, Jack Skellington, Michael Myers Trick-or-Treat Candy Latte, Devil's Caramel Macchiato, Ghostface Delight Latte, Witches Brew Frappe, Beetle Juice-White Chocolate Frappe, Bride of Chucky Frappe, Zombie Brains-Red Velvet Frappe, the Norman Bates Tea, Swamp Thing Tea, and much more.
5991 Bluffton Rd, Fort Wayne, IN 46809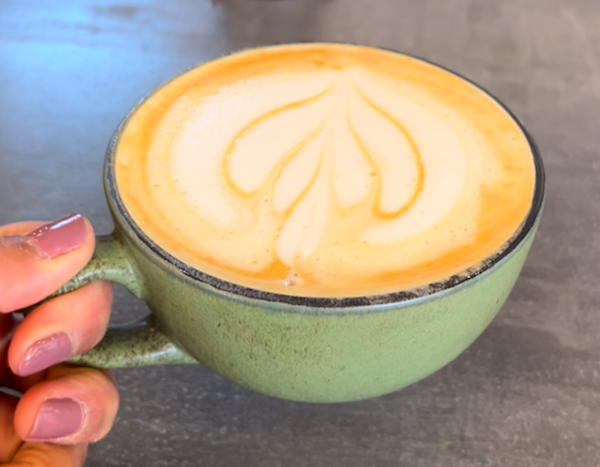 Penny Drip
Penny Drip is one of the newer spots in town, located right downtown with both indoor and outdoor seating. At this coffee + cocktail bar, they are offering the classic Pumpkin Spice Latte and an Apple Cider Oat Milk Latte. I gave the Apple Cider Latte a try because I've never had a fruit-flavored latte before. It was different, but also nice and crisp. It had the right amount of pucker — perfect for an afternoon pick-me-up. It was actually pretty refreshing too. If you're feeling spontaneous and you love apples, I would definitely recommend trying it while it's available during the season.
815 Lafayette St, Fort Wayne, IN 46802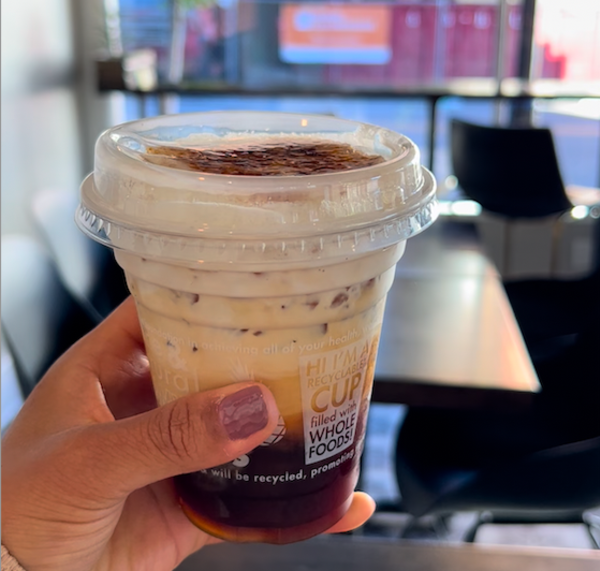 Kanela
There were several items on Kanela's seasonal menu that just spoke the language of festive fall drinks. I tried the Caramel Pumpkin Brulé which had an intense flavor, but it just seemed so right. It was the perfect amount of sweetness with small notes of pumpkin at the end. The other items listed include a Butterscotch Shaken Espresso, Pumpkin Spiced Frappe, and PBJ Smoothie. The most popular drinks on the menu were the Caramel Apple Butter Latte and Brown Sugar Chai. I'd get one of each if I could!
618 Harrison St, Fort Wayne, IN 46802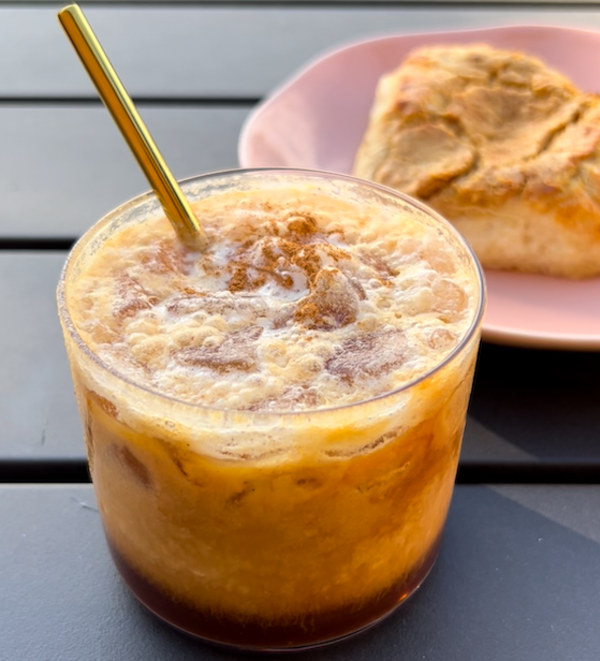 Ophelia's
When I came up the front stairs and opened the door to Ophelia's, I almost didn't know if I was accidentally walking into someone's home or not – think grandma's cozy cottage. This cute little restaurant was giving all the aesthetic vibes and it's also the perfect spot for all your brunch Instagram pictures. I stopped by to try the Bourbon Maple Oat Shaken Espresso and couldn't resist getting a Pumpkin Pie Cheese Danish. The two were destined to be ordered together and I enjoyed every minute of it in their outdoor seating area. It is by far one of the cutest "backyards" I've ever seen. They also offer a Pumpkin Cream Cold Brew and a Pumpkin Sage Latte (the sage is sourced from the backyard garden). *Pro tip: Be sure to make a reservation beforehand.
1603 N Wells St, Fort Wayne, IN 46808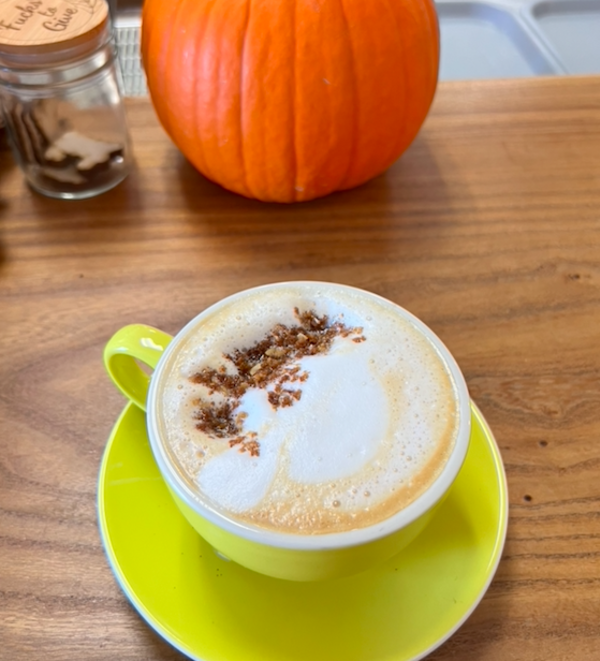 Conjure Coffee
At Conjure, you can find the perfect study or workspace thanks to all the little nooks. Here, I ordered the Spiced Brown Butter Cappuccino which was delicious and so cozy. You can taste all the spices and I especially enjoyed the sweet bits at the bottom to finish off. If you've been to Spain, cortado is probably your coffee love language and this coffee shop is catering to your needs. Be sure to try the Candied Sage Cortado.
701 Columbia Ave, Fort Wayne, IN 46805
1100 S Calhoun St, Fort Wayne, IN 46802 — Inside the Botanical Conservatory
3710 W Jefferson Blvd, Fort Wayne, IN 46802 — Drive-thru available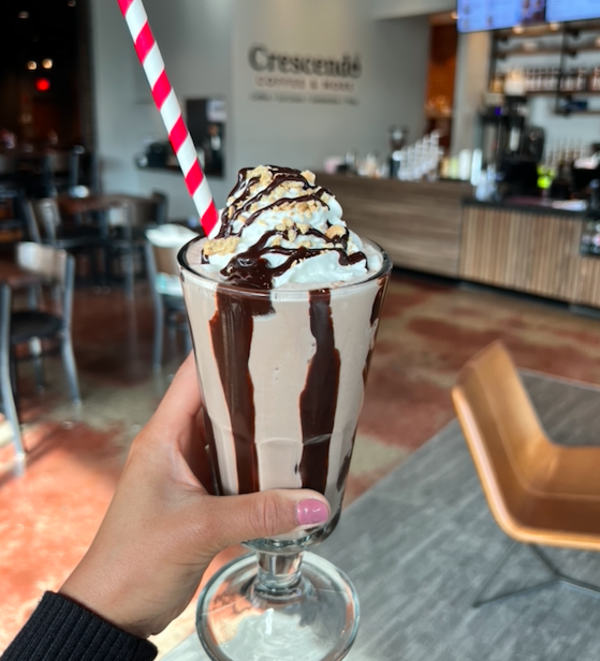 Crescendo Coffee & More
If you have a sweet tooth or enjoy live music, Crescendo is your new favorite place. They have ice cream, coffee, small bites, and all the vibes. You can find Fall flavors for all: Toffee Nut Mocha, Spiced Maple Cold Brew, Gingerbread Chai Latte, Caramel Apple Milkshake, Fall Festival Milkshake and their most popular item, the Marshmallow Pumpkin Latte. It was a little later in the evening when I arrived so by this time, I was craving something sweet and noncaffeinated, so I decided to indulge a little and got the S'mores Milkshake. It tasted just like marshmallows and chocolate in a cup. It took me back to those chilly nights when my friends and I would cuddle up and gather around the bonfire to tell spooky stories!
1806 Bluffton Rd, Fort Wayne, IN 46809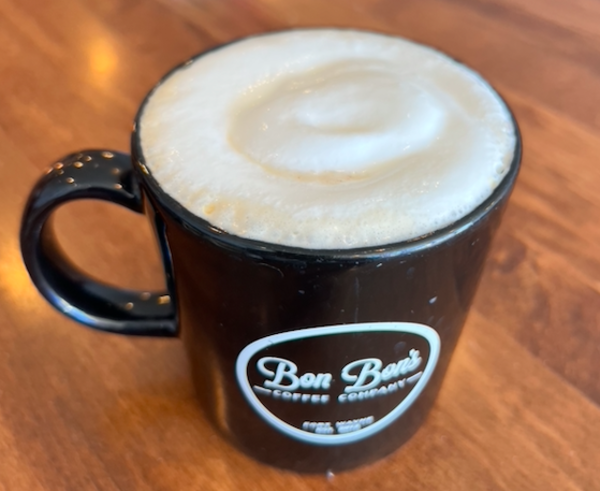 Bon Bon's Coffee
Bon Bon's is the perfect place to sit back, relax, and have a sip of your coffee. The warm atmosphere allows you to focus and have a space to get some work done. It's your average family-friendly local coffee shop, but better. On their seasonal menu, you can get a Pumpkin Pie Chai, Caramel Apple Aider, Pumpkin Cream Cold Brew with the Ghost Pumpkin Latte and the Sweater Weather Latte being the most popular. I couldn't resist the white mocha and pumpkin pie, so I got a ghost pumpkin latte. Delicious!
5712 Maplecrest Rd, Fort Wayne, IN 46835
2101 E Coliseum Blvd, Fort Wayne, IN 46805 — Purdue Fort Wayne
7952 W Jefferson Blvd, Fort Wayne, IN 46804 — Inside Lutheran Orthopedic Hospital
2520 E Dupont Rd, Fort Wayne, IN 46825 — Dupont Hospital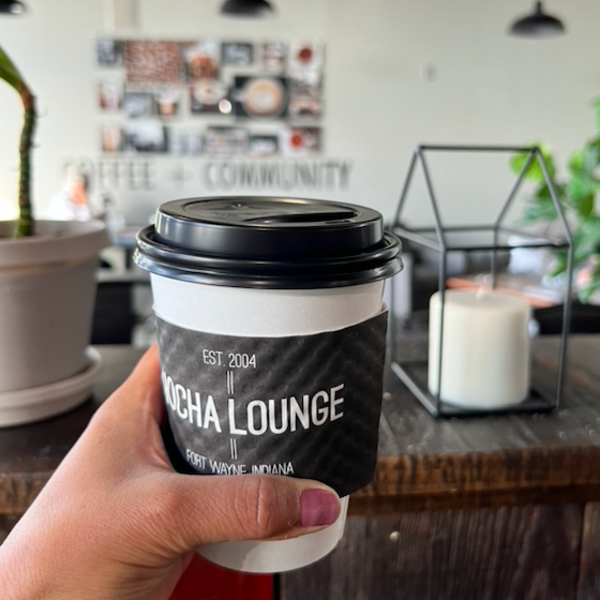 Mocha Lounge
If you're in a hurry and need something on the go, Mocha Lounge's drive-thru is probably your first stop. They also have one of the largest menus I've ever seen. There is something here for everyone and if you are unsure what to get, ask the barista because they always have the best recommendations. Pick your poison: Pumpkin Spice Latte, S'mores Mocha, Dutch Apple Chai, Toasty Pumpkin White Cocoa, Hot Apple Cider, French Toast Chai, Pumpkin Patch White Mocha, Maple Spice Latte, Caramel Apple Butter Latte, Butterscotch Mocha, Honey Mallow Latte, Cinnamon French Toast Latte, Pumpkin Chai, Green Apple infuser, Caramel Apple Frappe and Brown Butter Toffee Latte. I tried the Dutch Apple Chai. It was subtle and tasted like warm apples and cinnamon — it was the taste of Fall!
6511 Covington Rd, Fort Wayne, IN 46804
​4635 E Dupont Rd, Fort Wayne, IN 46825