Germany may have Oktoberfest, but Fort Wayne has OktoBEERfest.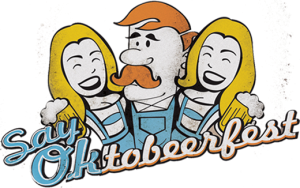 This September 5-8, Mad Anthony Brewing Co. invites you to taste more than 100 Indiana beers poured by the brewers who craft them. Spend the afternoon with over 20 regional craft brewers serving their brews in Fort Wayne's beautiful Headwaters Park West Pavilion. Brewers include:  Barley Island Brewing Co., Black Swan Brewpub, Bloomington Brewing Co., Bulldog Brewery, Broad Ripple Brewpub, Brugge Brasserie, Crown Brewing Co., Cutters Brewing Co., Figure Eight Brewing, Flat 12 Bierwerks, Fountain Square, Granite City Brewery, Halfmoon Brewery, Lafayette Brewing Co., Mad Anthony Brewing Co., People's Brewing Co., Rock Bottom College Park (Indy), Rock Bottom Downtown (Indy), ShoreLine Brewery, Sun King Brewery, and Three Pints Brewpub. The event spans four days, and the schedule is as follows:
Wednesday, Indiana Craft Beers & Hors D'oeurves: Old Crown Coffee Roasters, Fort Wayne
Thursday, Indiana Craft Beer Dinner w/select Brewers: Hall's GuestHouse, Fort Wayne
 Friday Golf Scramble, with BBQ Dinner: Bridgewater Golf Club, Auburn
 Friday Night, OK! Live Music: Mad Anthony Brewing Company, Fort Wayne
Saturday Noon-2:00pm Beers & Bikes Pub Tour, starting at Hall's Gas House and ending at Headwater's Park
Saturday: OKTOBEERFEST, 2:00-6:00, in Headwater's Park
Mad Anthony OktoBEERfest Tickets are $25 and include commemorative t-shirt, tasting glass and live music. Tickets go on sale Saturday, July 14 online below or any Mad Anthony location. Want to register for the golf scramble or learn more? Click
here.