There are several staples within the Fort Wayne community that I'm fairly certain even the most recent of newcomers knows. For example, it's no secret that our Children's Zoo constantly receives national acclaim; that a piece of DeBrand's chocolate can change your life; and that the best martini in town (and probably all of Indiana) can be found at Club Soda. But my latest trip to the renowned martini bar made me think twice about jumping straight to the drink menu. Allow me to share with you what I find to be a hidden gem at Club Soda: the dessert menu.
Ice cream lovers:
Ice cream is always a good choice, but add a bit of cookie, and you'll never want to go back. This is why I highly recommend Club Soda's
Soda
Crunch Ice Cream Cake,
a creamy serving of vanilla bean ice cream served on a crumbling Oreo cookie crust.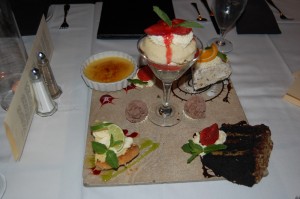 Chocolate lovers:
Club Soda's
Chocolate Bourbon Caramel Pecan Cake
is the ultimate indulgence for chocoholics. Three layers of chocolate on chocolate, separated only by a caramel and bourbon blend, give this classic chocolate treat an unexpected but delightful kick.
Fruit lovers:
If you love fruity desserts, you have no choice but to order the
Strawberry Shortcake.
Soft, chewy cakes layered under just the right amount of whipped cream and strawberries in syrup combined to make this dessert my favorite on the menu. This treat is only served occasionally in season, but it's worth an inquiry to see if they're offering it when you're there.
Super Sweet Tooth:
I tend to like a little bitter mixed with my sweet to really enjoy a dessert, but there were two hyper-sweet indulgences at Club Soda that even I couldn't resist taking a second bite of. The
Key Lime Pie
, which many might have placed in the fruity section, definitely wins the "sweetest" award for the dessert menu. Unlike most key limes I've tasted, this one lacked the typical tangy zing. But what it lacks in tang, it makes up for in flavor, due to a layer of coconut infused between the key lime filling and the crust. The
Vanilla Bean Crème Brulee
is another great extra sugary option, and I don't say this lightly because I am not usually a crème brulee type of gal. While I find the consistency of the custard in most brulee to be thin and liquidy, Club Soda's custard was the perfect consistency. Mixed with the perfectly caramelized top, their crème brulee is sure to put you in the best type of sugar coma. Needless to say, I highly recommend coffee with each of these desserts, just to balance out the palate. So next time you find your self making a trip down Superior Street to grab a cocktail at
Club Soda
, be sure to grab a dessert to go with your perfect martini!