Quidam had its world premiere in Montreal under the Big Top in April 1996. Since that time, the production has toured on five continents and been experienced by millions of people. This captivating production comes to Fort Wayne, Indiana September 21-25 at our own
Memorial Coliseum
. The international cast features 52 world-class acrobats, musicians, singers and characters.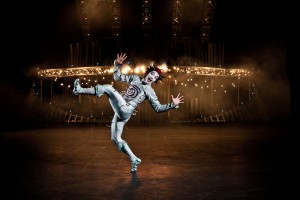 Unlike any other Cirque du Soleil show, Quidam does not take spectators to an imaginary realm of fanciful, larger-than-life characters. Rather, it is an examination of our own world – inhabited by real people with real-life concerns. Young Zoé is bored; her parents, distant and apathetic, ignore her. Her life has lost all meaning. Seeking to fill the void of her existence, she slides into an imaginary world – the world of Quidam – where she meets characters who encourage her to free her soul. Quidam: a nameless passer-by, a solitary figure lingering on a street corner, a person rushing past and swallowed by the crowd. It could be anyone, anybody. Someone coming or going at the heart of our anonymous society. A member of the crowd, one of the silent majority. The one who cries out, sings and dreams within us all. This is the "quidam" whom this show allows to speak. This is the place that beckons—a place for dreaming and genuine relations where all quidams, by proclaiming their individuality, can finally emerge from anonymity.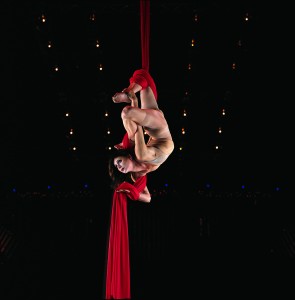 A few fun facts about Cirque du Soleil
•  In 1984, 73 people worked for Cirque du Soleil. Today, the business has 5,000 employees worldwide, including more than 1,300 artists. •  At the Montréal International Headquarters alone, there are close to 2,000 employees. •  More than 100 types of occupations can be found at Cirque du Soleil. •  The company's employees and artists represent close to 50 nationalities and speak 25 different languages. •  More than 100 million spectators have seen a Cirque du Soleil show since 1984. •  Close to 15 million people will see a Cirque du Soleil show in 2011. •  Cirque du Soleil hasn't received any grants from the public or private sectors since 1992.
**THIS JUST IN: TICKETS CAN NOW BE PURCHASED AT A SPECIAL 10% DISCOUNT USING THE CODE "BALANCE" AT THE FOLLOWING LINKS. The savings is approximately 10% off for these shows.
September 21 at 7:30 p.m. http://www.ticketmaster.com/event/0500468BFCD4C1C0?did=balance September 22 at 7:30 p.m. http://www.ticketmaster.com/event/0500468CE514BA0A?did=balance September 23 at 3:30 p.m. http://www.ticketmaster.com/event/0500468CE51DBA12?did=balance September 25 at 1:00 p.m. http://www.ticketmaster.com/event/0500468CE54BBA33?did=balance September 25 at 5:00 p.m. http://www.ticketmaster.com/event/0500468CE555BA37?did=balance