If you haven't heard the name Cinda B., you've probably seen her bags floating around town. Locally made, these handbags, totes, luggage sets, and tech accessories are taking over by storm. Cinda Boomershine started the company in 2004 and began producing durable, fashionable, and colorful handbags. November 6-8, the cinda b factory in Fort Wayne will be hosting a Factory Outlet Sale.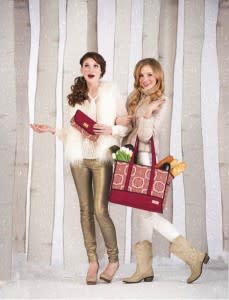 Just in time to stock up on gifts for the holidays, the sale will take place on Thursday, November 6 from 2-7 pm, Friday November 7, from 9 am - 6 pm, and Saturday November 8, from 9 am - 12 pm. Get all of your favorite designs and patterns at great discounted prices. And, as an added bonus, come at special times of the sale to meet Cinda B. herself. Swing by Thursday from 5-7 pm or Friday from 9-11 am to get a chance to talk with the woman behind the work. Cinda says she finds inspiration for her work in all aspects of her life, and as a busy woman herself, Cinda knows just what women-on-the-go are looking for in a bag. Her bags come in a variety of over hundreds of color and pattern combinations, so there is something for everyone.

These bags are great for any occasion and make great gifts for Christmas, wedding showers, baby showers, birthdays, and more! Come the first days of the sale for the best selection and then come back later in the weekend for even further discounted prices. While you are in town, go ahead and make it a day of shopping. Glenbrook Square Mall is just down the street. Stop at one of the many restaurants in the area for a quick refresher, and then shop until you drop!