I was unsure about what to expect when arriving at
Chuck and Bird's
restaurant (located at 4301 Fairfield Avenue in Fort Wayne.) I had heard numerous people talking about
Chuck and Bird's
and how they specialize organic food provided by local Indiana farmers. This automatically piqued my interest so of course I had to try this place for myself. 
Chuck and Bird's
is not only a restaurant, but also a market and home delivery service (talk about multi-tasking!)  I made reservations (they are not required) for a Thursday night with my mom and boyfriend.  After walking in, a woman was there to greet us and took us to our reserved table that had a cute sign that said "Emily" on it (nice touch!).  The dining room was not large in size but gave a very cozy and relaxed feeling. There were roughly 10 tables in varying sizes including a bar at the front for seating. Each table had a bright green floral tablecloth and a small mason jar with a tea light in it. The menus were on the table as well as a wine and beer list, which was moderate in size but I was excited to see their selection of Mad Anthony Brewing Co. beers, including the one I selected, Oberon, which is a seasonal beer they brew.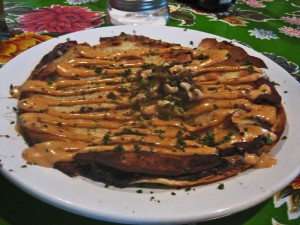 Now it was time to focus on the food. We started with
Black Bean Quesadillas
. The tortilla was crispy and flaky and filled with great cheeses, vegetables, black beans, and an awesome chipotle-honey sauce. It was definitely large enough to serve as an entree. For the main course I selected the
Miller Chicken Paillard
, which included three chicken pieces smothered in mushrooms and a great Madeira wine sauce. My mom selected the
Willow Lake Farms Burger
, which she loved! My boyfriend Cory loves pork, so his choice was the
Jerked Pulled Pork
which came from
Gunthorp Farms
and was spiced and served with a side of fries (which were great!).  And for desert we shared the
Madeleine's Bakehouse Brownie and Hartzler Dairy Farm Milk
, both were excellent!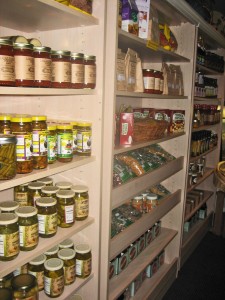 One of my favorite parts of
Chuck and Bird's
would have to be their small store located on the other side of the restaurant.  Here you can purchase many of the menu items from area farms. I loved that on each table there was homemade mustard and ketchup, and let me tell you what that mustard was amazing from
Local Folks Food
! The only downside I found to having a great farm fresh restaurant would have to be the issue of quantity. I noticed that the table next to me tried to order the burger, but they had unfortunately run out of the burger meat. A great touch to the dining room a giant chalkboard where they feature upcoming changes, featured deserts, and different festive nights. I would have to say that overall I really enjoyed
Chuck and Bird's
for the unique dining and great atmosphere and will definitely make a return trip. For more information about their current menu, home delivery service and products visit
http://www.chuckandbirds.com
. Happy eating!