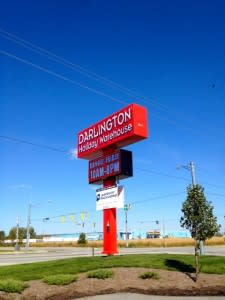 When you walk into
Darlington Warehouse
to Christmas shop, you might feel like you are walking into a shopper's dream. After all, Darlington's deals and massive selection make it a fun extravaganza for stocking stuffers and more. Darlington specializes in a variety of low cost items that make great Christmas gifts. Most items are $1.69, but some do cost more. However, the majority of Darlington's stock is under five dollars, which makes it easy to fill your cart fast. And now, they have two Fort Wayne locations! Darlington is the perfect place to stop when you need stocking stuffers, items for a gift basket or grab bag, or don't have a lot of cash to spend this holiday season. Deborah Schwartz, a hostess at Darlington Warehouse said, "I like the prices and quality of a lot of items that are inexpensive. They have a friendly atmosphere with people helping customers from the moment they walk in and until you leave."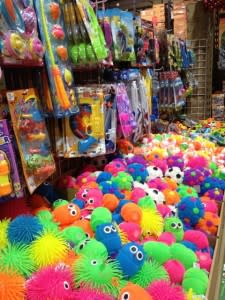 Both stores begin the shopping experience with Christmas wrapping paper and accessories so you can stock up on all your Christmas necessities. I picked up some Christmas gift wrap while I was in the store and was impressed with their selection. They also have bags, bows, tissue paper and gift tags, so you can get all your Christmas wrapping supplies in one place. Other sections include home décor, kitchen utensils, gardening supplies, sports themed items, candles, jewelry, hair accessories, small children's toys, coloring books, scrapbooking supplies, Christmas food items and more. Because Darlington opened earlier this year than previous years (opening day was October 1), they even have a Halloween section filled with decorating items for the Fall holiday.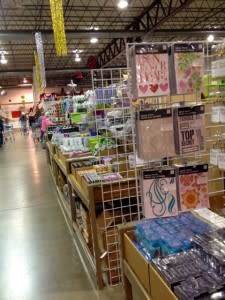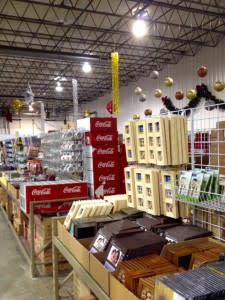 The original Darlington South is at 3925 Airport Expressway,? Fort Wayne. The location of the new Darlington North is 615 West Coliseum Boulevard, ?Fort Wayne. Wonder what the new Darlington is like? For the most part, it's a mirror image of the first Darlington on the south end of town. A few of the sections are expanded in the new Darlington North, including the scrapbook section and technology accessories. However, the stock at each store does vary slightly with different colors or patterns of items. So if you can't find just the right color of something, it might be worth a try to check out the other store.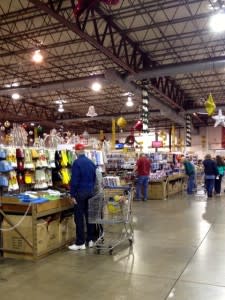 The main advantage of the new store is that neither store was incredibly crowded, but it also helped that I shopped early. I have a feeling that in the weeks preceding Christmas both stores will be busy as shoppers purchase their last minute gifts. Since there are now two Darlington stores in Fort Wayne, you can choose the most convenient option for you no matter how long your Christmas list is. But shoppers take note: Darlington closes their Christmas season on December 23
rd
, so employees can enjoy the holidays with their families. Darlington Warehouse is open Monday through Friday from 10 AM-8 PM, Saturday from 9 AM-8 PM, and Sunday from 12 PM-5 PM.