Bring on the Christmas music, decorating, movies and Bing Crosby - the holiday season is upon us! December has always been my favorite month to call Fort Wayne home. In a city full of traditions there are always activities to be had with family and friends around town. Behind every old tradition, new traditions arise giving visitors an opportunity to create their own family experiences. With so many options to choose from,
Christmas at the Castle
offers a unique type of holiday experience.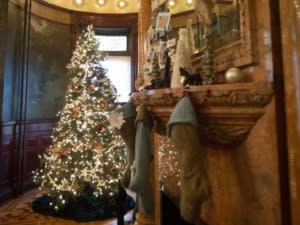 The University of Saint Francis is a beautiful campus here in Fort Wayne filled with unique history, the most popular building being the Bass Mansion. The 24,000 square-foot home belonged to John Henry Bass, a wealthy industrialist. It started out as a library for the university in 1983. In that year Sister Mary Ann McManus started Christmas at the Castle. She began the tradition by inviting florists and designers to decorate the rooms, unfortunately it ended a few years after. With the restoring of what is now known as Brookside in 2008-2009, Christmas at the Castle was able to come back in December of 2010. Saint Francis preserved the history of the building while modernizing the three floors. The three floor mansion gives designers and florists ample space to choose which room they want to decorate. Visitors are able to tour all three floors with many rooms and offices to view. The beautifully decorated trees and greenery gives guests something to find around every corner. The decorator's immense detail to the Christmas décor from the fireplace mirrors, mantels and railings brings visitors back year after year. Come get in the holiday spirit with us and explore Brookside, a unique traditional twist of Fort Wayne! Check below for dates and times. Friday, December 5: 4 - 6 pm Saturday, December 6: 12 - 5 pm Sunday, December 7: 12 - 5 pm Monday, December 8: 4 - 5 pm Wednesday, Dec. 10: Noon -5 p.m., Senior Day at the Castle   Admission: $6 per person; $25 maximum per family of six.   Senior Day admission: $4 for seniors 55 and older.   Free parking at North Campus; shuttles available. http://www.visitfortwayne.com/event/christmas-at-the-castle University of Saint Francis, Brookside 2701 Spring Street