Mark your calendars – July 18 and 19 will be the time to bring the kids to the Three Rivers Festival Children's Fest. This two-day event will be held on the green space beside Parking Garage 1 on the IPFW campus.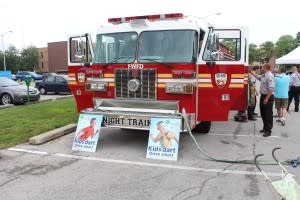 The Children's Fest is free, with lots of games, activities, coupons and free things that parents and kids can collect. Interested in the Bob Evans restaurant? Then trot over to the booth and grab a few coupons for your next meal! Check out the Fort Wayne Children's Zoo spot, where a zoo volunteer is there, helping kids meet and greet different small animals and insects. Maybe you can pick up some wristbands and pencils from area school booths, or listen to some music at the entertainment tent.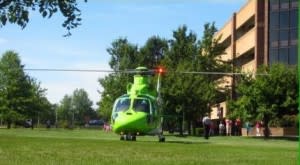 While a few of the activities come with a small price tag (i.e. the kiddie rides, like the four-seat Ferris wheel or (sometimes) the candy-fueled rock creation project for Science Central), everything else is free. Visitors are encouraged to explore a fire truck, an ambulance, and the Samaritan helicopter that makes a spectacular landing each day of the festival. Emergency personnel act as tour guides, helping kids climb up into the truck seats and explaining about how things work. Parents and grandparents snap lots of pictures as their kids pose beside the shiny red truck. Oh – and don't forget to see the remote-controlled fire engine, Freddie, who is as entertaining to adults as he is to kids.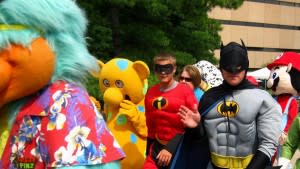 Several times a day, the Character Parade winds through the Festival. Mascots and costumed characters wave to kids and distribute wristbands. Watch out for Johnny from the Fort Wayne Tincaps baseball team, Don the Mastadon from IPFW, Icy D. Eagle of the Fort Wayne Komets hockey team, and lots of other characters as they follow a tiny, music-blaring Roller Dome car. You can't miss the parade – and you can get a lot of great photos!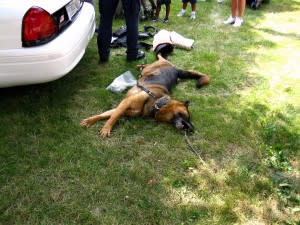 The big white entertainment tent features kid-friendly acts and shows, ranging from classical strings by the Fort Wayne Suzuki Talent Education program to soft rock groups with kid-themed lyrics. If you get hungry, there is usually some free popcorn at one of the booths – or you can stop by the hot dog stand to purchase foot longs or a soda. So, whether your little one likes to make giant bubbles with plastic wands or wants to meet an off-duty police dog, the Children's Fest has lots to see for free!