The Fort Wayne Museum of Art has a newly-purchased chandelier created by Dale Chihuly. Art enthusiasts have no need for an introduction to Chihuly, but for the rest of us, a bit more information is in order.
Dale Chihuly
Dale Chihuly is a still-living American glass sculptor. He has been experimenting with glass-blowing since the 1960s. In 1976, he was involved in a car accident where his face was cut with glass. He lost the vision in his left eye, but this didn't stop his glass-blowing. Three years later, he dislocated his shoulder in a bodysurfing accident, and this did put a stop to his direct involvement with glass. However, he continued creating sculptures by hiring others to blow the glass while he directed their placement. Chihuly describes himself as "more choreographer than dancer," and if you've ever seen a Chihuly work, you will not forget it. They are airy and instantly recognizable.
Chihuly in Indiana
Perhaps Indiana's most famous Chihuly structure is found in the Indianapolis Children's Museum. The Fireworks of Glass glass tower is one of Chihuly's largest permanent structures, at 43 feet. The structure rises above a glass ceiling and its colorful blown-glass pieces can be viewed from all sides.
You can see Chihuly's Yellow Neon Chandelier in the Visitor's Center in Columbus, Indiana. Made of 900 pieces of vibrant yellow glass, the 9-foot-tall chandelier definitely catches your attention in the building's front window.
Chihuly in Fort Wayne
Now we have a Chihuly chandelier right here in the Summit City! The Fort Wayne Museum of Art purchased his Lily Gold Chandelier this summer. It is made of 100 glass-blown pieces and weighs 1,000 pounds. The chandelier did not come readily assembled; it took an installer a day to place each ball and tendril individually high above the museum's foyer area. It will be a permanent part of the museum's collection, so be sure to enjoy its intricate design next time you stop by.
Chihuly Gifts
Chihuly has many devotees (I know because my sister is one. She is an elementary teacher, and she teaches her students about Chihuly and his works each year). If you know one, you'll want to also visit the Art Museum's gift shop, which features a nice selection of Chihuly-themed gifts: calendars, notecards, and more.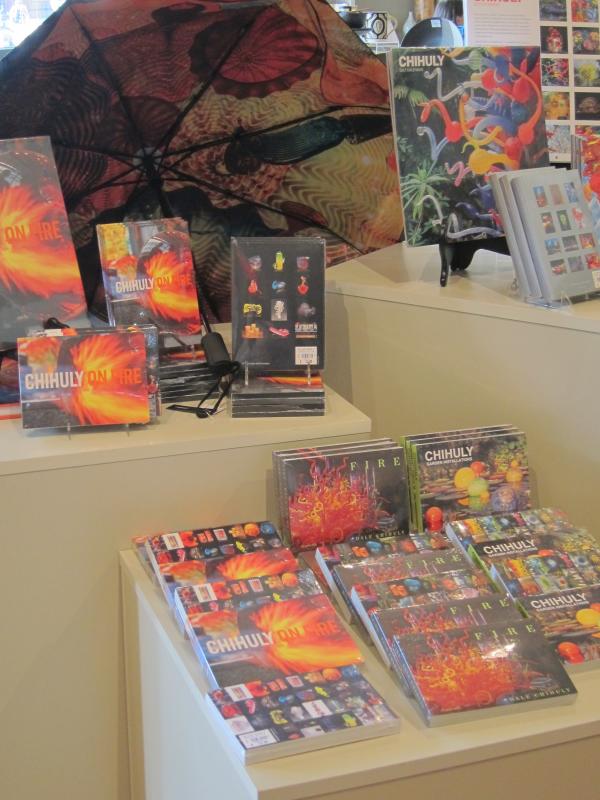 Address: 311 East Main Street Fort Wayne, IN 46802
Phone: (260) 422-6467
Website: Visit Website