Visitors can channel their inner rockstar though a program at Sweetwater Sound. According to its website, "Sweetwater began business 33 years ago in Fort Wayne, and is the country's most respected dealer in high-technology equipment for musicians, recording studios, and broadcasters – from microphones and digital recording systems to electric guitars to electronic keyboards and electronic drums."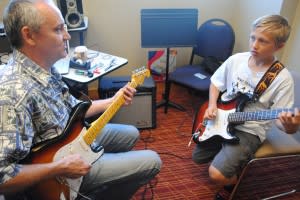 But Sweetwater is more than a storefront. It's a place to learn how to play music, too! With more than 20 instructors and hundreds of students, the Sweetwater Academy of Music is the go-to for music instruction.
So, what can visitors expect? They offer "a complete musical learning experience." That means lessons and classes for guitar, bass, keyboards, drums, voice, and recording. Whether you're just starting out or taking your skills to the next level, staff can match you with the right instructor for your playing style, personality, and creative goals. Insider's Note: The family-friendly environment is ideal for parents waiting or for the time before lessons. Guests can enjoy free Wi-Fi, a free arcade, and a wide selection of refreshments. And be sure to mark your calendars for the 2nd and 4th Tuesday for a family-friendly Open Acoustic Jam. Held in Sweetwater's Conference Hall from 5PM-7PM, these jams are open to players of all skill levels, and guitarists of all ages are encouraged to attend. Rock on!