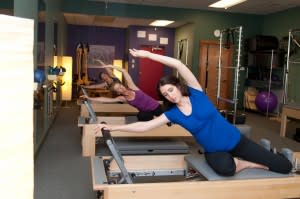 Fort Wayne has plenty of options when it comes to traditional gyms.  but there are few niche ones. Luckily for me (and you)
Pure Movement Pilates Studio
offers several classes you can't find anywhere else in the city. I have been a member since January, and the classes still get me excited. The ladies there know how to keep it fun! I typically take a barre class once a week, which is a mixture of Pilates, ballet and yoga. It involves a mix of stretching, weight training and ab work. Note, I said ab work. You
will
feel the burn! I've found barre is 
a great supplement to a cardio routine. While low impact, you will feel like you exerted yourself after. Seriously, you can feel your body tightening and toning during the class. I have seen results unlike any other workout!  I also appreciate the attention the teachers provide. The class size (maybe 6-10) is ideal. The teachers are attentive,  helpful and have a great sense of humor.
I can tell you no two classes are the same, which is great for someone who gets bored easily.  I should mention each class is designed to have musical accompaniment. What's a workout without music, after all?
I have also taken a Pilates class, which is much harder than it looks! They offer several types of group Pilates classes, as well as individual instruction. Want to check it out? Your first
class
is free. After that, you can purchase class packs.  The studio is located next to downtown Starbucks, at 
526 West Jefferson Boulevard. There is lot parking.