This post is part of our Three Rivers Festival feature series. Click here to view all Three Rivers Festival posts.

Art is a process, a process that can take minutes, days, years, or decades as the artist produces a painting, a picture, a novel, or a song. In a previous
post
, I wrote about Art in the Park, an annual event in Fort Wayne featuring the work of local and national artists. Art in the Park is a showcase for artists' "final product." But have you ever wondered what the process looks like? Chalk Walk is an event that gives you a glimpse at just that.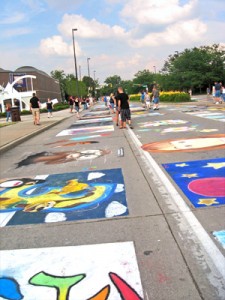 The Fort Wayne Museum of Art Chalk Walk, an official Three Rivers Festival event, features professional and amateur artists (both local and national) engaging in on-the-street painting. Located on Main Street between Lafayette and Clinton Streets, you can watch art take shape. Whether someone is creating an entirely original work or recreating a masterpiece, over the course of a weekend you can see a patch of empty asphalt become something so much more. This is a fantastic community art project in a city where art thrives. It takes place the first weekend of the Three Rivers Festival, Saturday, July 9 and Sunday, July 10, 2011, from 8:00 a.m. – 6:00 p.m. Admission is free.